European Union officials were poring over the details of Theresa May's latest Brexit offer ahead of a fresh round of negotiations next week.
The Prime Minister used a high-profile speech to call for "pragmatic common sense" to deliver a Brexit deal that will be good for Britain and Europe, as she sent a message to Brussels: "Let's get on with it."
The PM has rejected "unacceptable" European Commission proposals to retain customs union arrangements in Northern Ireland, but accepted the UK's "responsibility" to help maintain a soft border with the Republic, spelling out in detail how she believed this could be achieved by technological means or through a broader trade agreement.
But Irish premier Leo Varadkar called for "more detailed and realistic proposals", although he was criticised by leading Tory Brexiteer Jacob Rees-Mogg, who said the EU's "absurd" proposition heightened the risk of no deal.
EU and UK officials will be expected to discuss Mrs May's proposals on the border when they meet for technical talks from Monday to Wednesday in Brussels, which will also look at citizens' rights, the financial settlement and the terms of the transition.
The speech avoided major rows within the Conservative Party at home despite Mrs May's apparent warning to hardline Brexiteers to temper their expectations, acknowledging that neither side would get "exactly what we want" in talks on the future UK/EU relationship.
But she also sent a blunt message to Brussels that the EU must face "hard facts" and resolve "tensions" in its own stance if it is to help deliver the best outcome for both sides.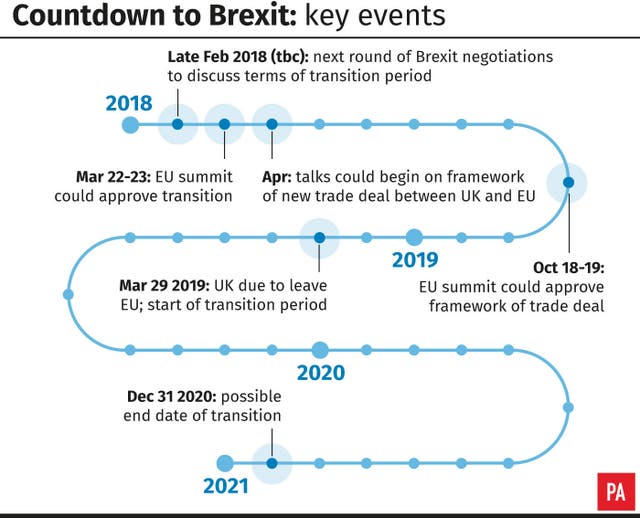 And she rejected chief Brexit negotiator Michel Barnier's argument that her "red lines" on quitting the single market, customs union and European Court of Justice have left only the option of a Canada-style free trade agreement, insisting that Brussels needs to "look beyond the precedents, and find a new balance".
Mr Barnier welcomed the speech for offering "clarity" on the UK's aims and a recognition that there would be "trade-offs".
But German MEP Manfred Weber – an ally of Chancellor Angela Merkel and leader of the centre-right EPP grouping in the European Parliament – said:  "I don't see how we could reach an agreement on Brexit if the UK Government continues to bury its head in the sand like this".
Mrs May said that any deal must pass the "five tests" of respecting the 2016 referendum result; delivering an enduring solution; protecting security and prosperity; leaving Britain an "open, outward-looking, tolerant, European democracy"; and strengthening the union of the UK.
And she said the agreement should rest on "five foundations", including binding commitments to ensure fair and open competition and prevent a "race to the bottom" on standards, as well an independent arbitration mechanism to resolve disputes.
In a message agreed with her Brexit "war cabinet" at Chequers last week, she said Britain was also ready to give up passporting arrangements in return for a new system allowing financial services in the UK and EU to access each others' markets by maintaining "the same regulatory outcomes over time".
And Britain will make "appropriate" financial contributions for associate membership of Europe-wide medicines, chemical and aerospace agencies;
Mrs May also outlined plans for a "labour mobility framework" to allow businesses and self-employed professionals to work across the UK and EU.
And she called for "mutual recognition" in areas like regulation of goods, broadcasting licences and professional qualifications.
Labour leader Jeremy Corbyn accused Mrs May of failing to bring "real clarity", stressed he was worried about her admittance that access to European markets would be reduced, and said she "failed to provide solutions" in particular on the Irish border.