Bianca Jagger has given her backing to environmental campaigners involved in a High Court fight over an "undemocratic and draconian" injunction.
The human rights campaigner joined demonstrators in London on Monday at the first stage of a bid by an oil and gas firm to ban protests at four exploration sites in south-east England where drilling operations are taking place.
UK Oil and Gas Investments PLC (UKOG) claims actions by some protesters have been unlawful and wants the court to grant an injunction against "persons unknown" who might be involved in direct action.
The former wife of Rolling Stones frontman Mick Jagger said: "UKOG's attempt to silence environmental defenders with an injunction is an attack on freedom of expression and democracy.
"I am appalled that residents of south-east England are being threatened with intimidation and censorship for speaking out against the potentially irreversible damage to their way of life, to their water sources, to the air, and their environment  by unconventional drilling operations.
"I call on UKOG to withdraw its application for an undemocratic and draconian injunction, which is a shameless attempt to ride roughshod over local peoples right to peaceful, lawful protest."
The court heard there have been a number of "direct action" protests at sites in Surrey and Sussex, including the construction of a "fortress" and network of tunnels.
Other campaigners have taken part in "lorry surfing", slow walking in front of vehicles to obstruct access and holding coffee morning-style events at site entrances – including one called Cake At The Gate.
Lawyers for UKOG and four of its subsidiaries said some protests are intended to interfere with its "economic interests" and the firm is asking the court to ban a range of activities on and around its sites.
Timothy Polli QC said the firm is not using "fracking", but understands that some find the extraction of resources from the ground "controversial".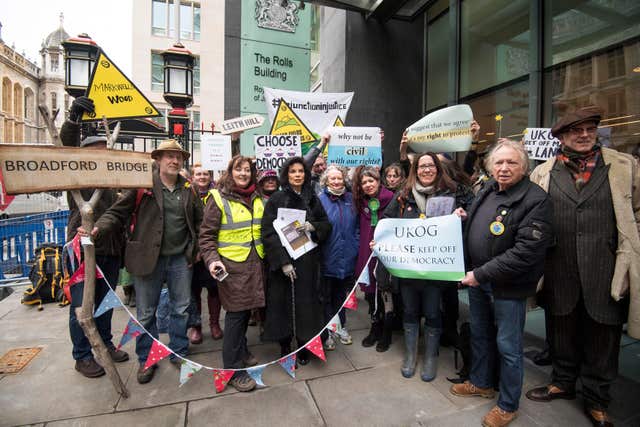 "The claimants do not seek to prevent protesters from communicating their message of opposition to the public or to the Government in a lawful and reasonable way.
"There is, however, a group of protesters who seek to impede, hinder and generally discourage commercial activities by what is euphemistically called direct action."
Mr Polli said the purpose of such protests was to make the firm's operations as "inconvenient and expensive as possible".
Five campaigners, including actress Susan Jameson, were made defendants to the High Court action by Chief Master Matthew Marsh after they attended a short hearing.
Master Marsh said the injunction sought was "very wide-ranging" and gave the defendants more time to prepare their case before a further hearing takes place.
Speaking after the hearing, Ms Jameson said: "I don't do direct action, it's not my style, but standing up to be counted in court is something I can do.
"I am appalled that UKOG think they have the right to stop people having an opinion and rights to share these opinions.
"This court case adds insult to injury as far as I am concerned."