Ads for an essay writing company have been banned for misleading customers by failing to make it clear that the papers were not meant to be submitted by students as their own work.
The online adverts for UK Essays also gave a "misleading impression" that the firm had received positive press coverage, the Advertising Standards Agency (ASA) has ruled.
A website for ukessays.com featured text that stated "guaranteed grade, every time. We're so confident you'll love the work we produce, we guarantee the final grade of the work. Unlike others, if your work doesn't meet our exacting standards, you can claim a full refund… loved by customers & the global press UKEssays have lots of press coverage from all over the world confirming that a 2:1 piece of work produced by us met this standard… We were the first company in the world to offer you guaranteed 2:1 and 1st class work".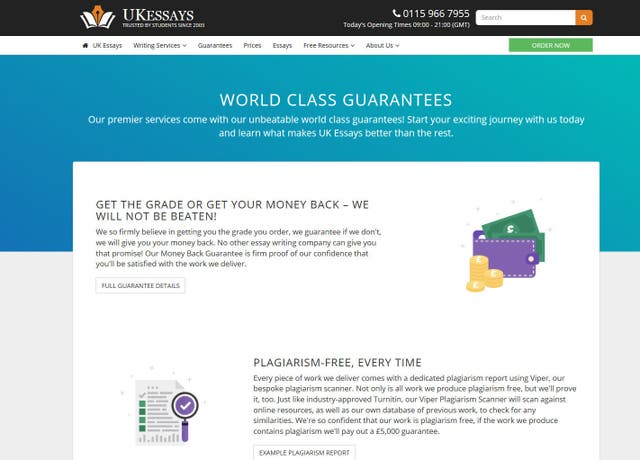 A complaint was brought by the Quality Assurance Agency for Higher Education (QAA), a universities watchdog, which argued that the ad was misleading because it did not make clear the risks linked to submitting bought essays, and that references to the press coverage UK Essays received implied that they had received positive coverage or endorsement from these media outlets.
UK Essays said that neither it or its website indicated at any point that essays bought from it were intended to be handed in by customers to their own education centre, and that if it was providing an essay service intended to be submitted as a student's work then it would be necessary to warn of the risks of doing so – such as plagiarism and academic misconduct.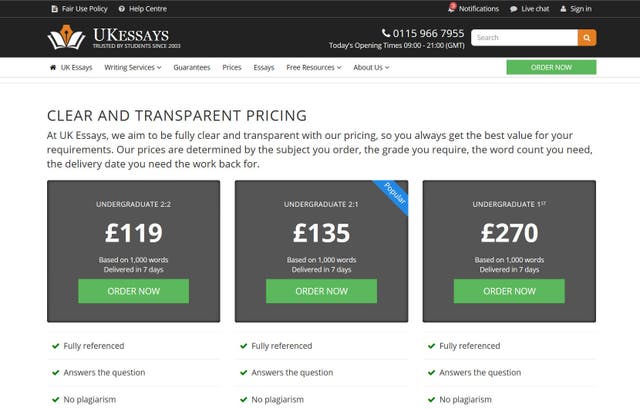 It also said that it had a fair use policy, which it believed was prominently displayed on the website, explaining the proper use of its essay service and which said students could not submit purchased essays as their own.
UK Essays also said that references to press coverage were not claiming endorsement by the outlets and merely stated what had been written, so were not a misrepresentation.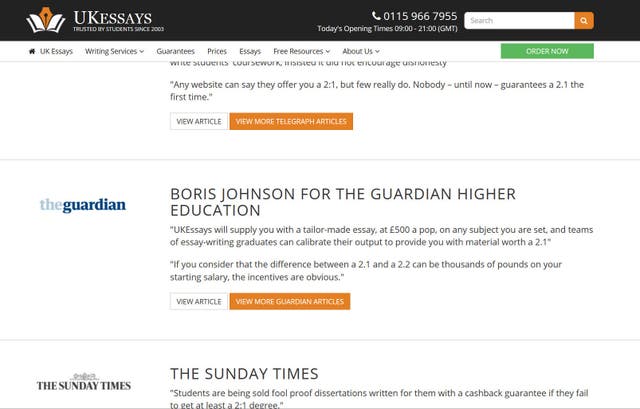 "We considered that consumers would understand from the website that they could purchase an essay of a particular grade that was plagiarism-free, and that they would be able to make a claim under the refund guarantee if they submitted the essay and did not receive the grade ordered, or if the essay was found to be plagiarised."
It also said: "Because we considered consumers would expect from the ad that they could submit purchased essays as their own that would meet the ordered grade without risks, which was not the case, we concluded that the ad was misleading."
The QAA's director of academic standards, Ian Kimber, said: "Essay mills mislead students and put their academic and professional careers at risk.
"This landmark ruling by the ASA is the first successful challenge to their claims of legitimacy, exposing their cynical use of anti-plagiarism disclaimers and exploitative media referencing.
"We will continue to campaign for academic integrity, supporting both students and higher education providers in identifying and tackling cheating and other abuses. This case helps to spread the message that cheating, in any form, is unacceptable."