The family of a Dunblane shooting victim have visited Florida to support relatives and friends of those killed in the Parkland high school tragedy.
Alison Crozier and her son Jack – who lost their five-year-old daughter and sister Emma in the 1996 primary school massacre, in which 16 children and their teacher were killed – travelled to the US with radio station LBC.
During the trip they spoke about the impact of Emma's death, and the successful Snowdrop campaign which led to a ban on private handgun ownership in the UK.
Students at Marjory Stoneman Douglas School have demanded tougher gun laws in the US after 17 people were killed in the shooting on February 14.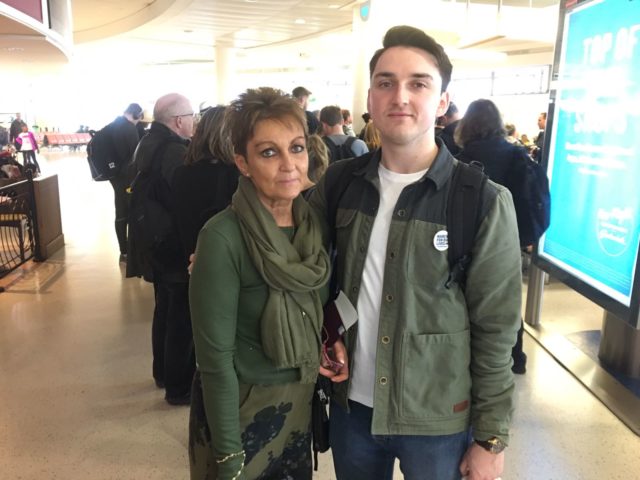 "Something positive happened after Dunblane. We changed everything and that's what we hope can happen here as well."
He urged campaigners to speak with one voice to oppose the National Rifle Association of America (NRA), the powerful gun lobby group.
"In the UK we had one voice, it was the Snowdrop Campaign, it was the gun control network," he said.
"This one voice, and this is what we want and we're not going to stop until we've got to this end point."
On the loss of Emma, Alison told the family: "It's always there but you can live out with it. That's where the positivity is that we do want to give you.
"We are 22 years down the line. There's always this hole in your life. The first year is just a blur. You do it day-by-day."
Alison and Jack also met with students and campaigners Nikhita Nookola and Christy Ma, who both lost friends in February's shooting, and with Congressman Ted Deutch, who has been campaigning for gun control.
Nikhita told them: "It's so incredible that you guys came all the way from Scotland to support us.
"You're just a living example of what we can do and how people have the power in government."
The LBC trip is the latest move by Dunblane relatives to support Parkland families, students and campaigners.
Ten family members of victims and survivors recorded a video message entitled Dunblane Stands With Parkland, while several relatives, including Jack, spoke at a rally for US gun control in Edinburgh last month.
The event was one of several hundred held across the globe in support of the March for our Lives campaign which emerged in the wake of the Parkland shooting.
To watch the full video report of Alison and Jack's visit to Florida, visit LBC.co.uk.