Health Secretary Shona Robison has approved a Greater Glasgow health board boss as interim chairman of NHS Tayside.
John Brown, CBE, will take on the role on an "interim basis" until a "substantive chair" can be appointed.
It follows the decision of Professor John Connell to step down after ministers were forced to intervene in the running of the health board.
Ms Robison had called for Professor John Connell to quit after it emerged NHS Tayside had apparently used donations to fund new technology.
The Health Secretary also welcomed NHS Scotland's decision to appoint Malcolm Wright as acting chief executive of NHS Tayside.
She said: "I am pleased to approve the appointment of John Brown, and welcome the appointment of Malcolm Wright.
"Mr Brown already chairs a large health board and is a chartered management accountant, with significant experience in leading change.
"Mr Wright is a very experienced NHS chief executive, and has already been involved in a number of successful board transformations.
"I am confident that their appointments will bring a very valuable stability to the board."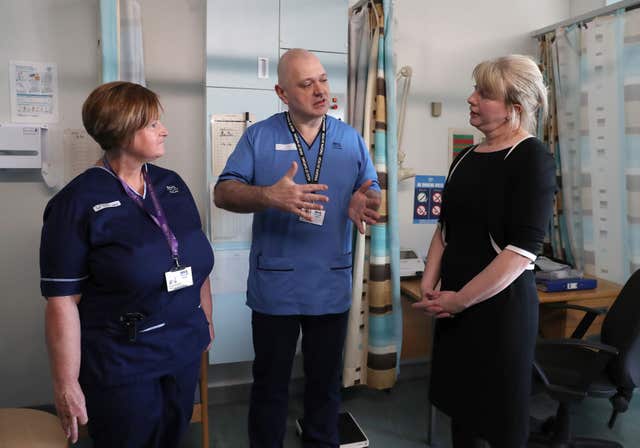 He said: "As the Cabinet Secretary made clear, a change of leadership was needed within NHS Tayside to maintain public confidence.
"These appointments will provide stability to the board and enhance financial scrutiny, and their considerable experience in management and leading change will bring huge benefits.
"Most importantly, it will ensure that patient safety continues to be at the very heart of their work."
Ms Robison thanked Prof Connell for his "personal probity" but said it was the right thing to do to move the health board forward.
She also described the position of chief executive Lesley McLay as "untenable" after being forced to exercise ministerial powers of intervention.
In a statement, Prof Connell said: "It has been an absolute privilege to provide leadership to NHS Tayside over the last 30 months; I am acutely aware of the outstanding efforts of all staff to deliver safe and effective healthcare to the population of the region.
"I have always maintained a focus on safe patient care and ensuring staff are supported to deliver that at all times. I am very pleased that this has not been compromised during a difficult financial period.
"I believe that NHS Tayside is set on the correct course to transform its services and maintain safe health and care for Tayside.
"I know that my successor will have the support of a superb group of healthcare professionals in taking this forward."