Sinn Fein's Orfhlaith Begley declared herself a history maker as she became the first woman elected as West Tyrone MP.
The 26-year-old political newcomer comfortably held onto a seat relinquished by party colleague Barry McElduff when he quit amid a furore over a controversial social media post.
The solicitor from the Co Tyrone village of Carrickmore secured an almost 8,000 majority in the parliamentary by-election, ahead of second placed Democratic Unionist Thomas Buchanan, though Sinn Fein's percentage of the vote did drop from over 50% in last year's general election to 47%.
Abstentionist MP Ms Begley noted that her victory, secured with 16,346 votes, came in the centenary year of the first woman MP elected to Westminster, the Irish nationalist Countess Markievicz.
"So today we have made history, we are the history makers and we will continue to be."
Mr McElduff resigned as MP for the area in January, 10 days after a controversy flared when he posted a video of himself with a Kingsmill-branded loaf on his head on the anniversary of the notorious Kingsmill massacre.
He insisted the video was not an intentional reference to the 1976 sectarian murders of 10 Protestant workmen by republican paramilitaries near the Co Armagh village of Kingsmill, but he acknowledged it had caused hurt and offence to victims' families.
Ms Begley referred to the controversy in her victory speech at Omagh Leisure Centre.
She said there were "lessons to learn".
"Going forward it's vital for people in public life to recognise and acknowledge the pain that exists," she said.
The new MP also issued a direct message to unionists, urging reconciliation.
"What I am about is building for the future," she said.
"Reaching out to unionism and building bridges between our communities – so that we can live in a shared and reconciled future together.
"I am fully open to that if you are."
Mrs McDonald said the result was a "stunning endorsement" of Sinn Fein.
"I believe this is vindication for real powersharing based on equality, based on respect," she said, referring to the ongoing absence of devolution at Stormont.
"It's certainly a vindication for our position on Brexit.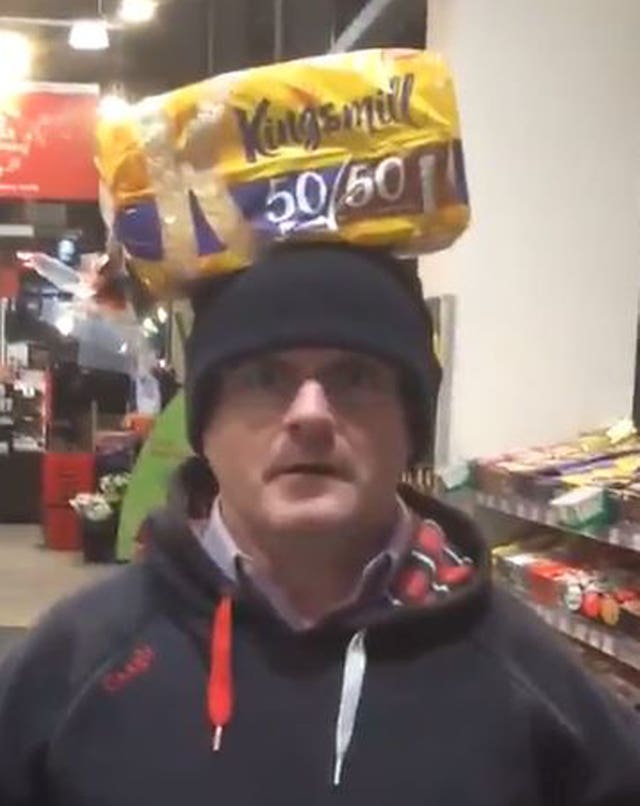 "It is the electoral energy for us to move forward,to plan economically, socially and politically for what are going to be very, very challenging times."
The DUP's Mr Buchanan polled 8,390, with the party's 24% vote share down 3% on last year.
"The people of West Tyrone have spoken and I respect their decision," he said.
"I am extremely disappointed however that the constituency will continue to be unrepresented in parliament.
"Whilst West Tyrone has an MP it does not have one who is prepared to do the full job expected of them."
The SDLP's Daniel McCrossan came in third with 6,254.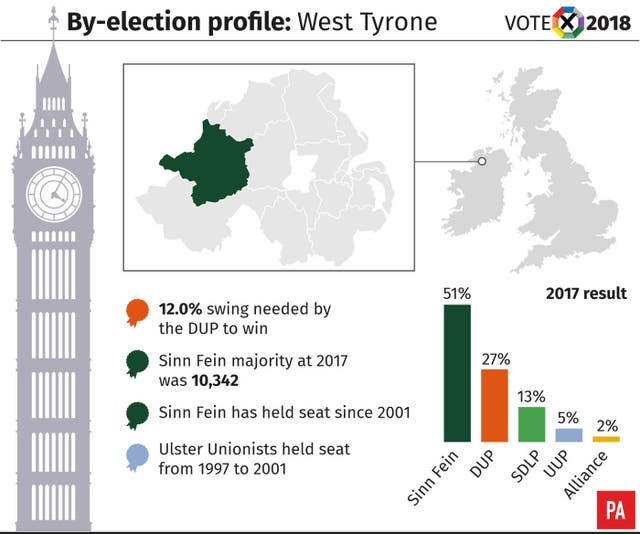 Ulster Unionist Chris Smyth increased his party's vote share to 8%.
The 2,909 ballots cast represented a 3% increase on 2017.
The fifth candidate in the race, Alliance's Stephen Donnelly, polled 1,130 votes.
The 3% vote share was up almost 1% on last time out.
There was a security incident during the day when a man was arrested on suspicion of possessing a firearm at a polling station.
Police investigating the incident in Greencastle, Co Tyrone, detained the 59-year-old on suspicion of possession with "intent to cause fear or alarm".
He was later charged and is due before a district judge in Dungannon on Friday morning.
Given the circumstances around Mr McElduff's departure, issues affecting victims of the Troubles were a key feature of what was a relatively low-key campaign.
Kevin Skelton, whose wife was killed in the 1998 Omagh bomb, put himself forward as a potential victims unity candidate, asking the other parties to unify behind him in a bid to defeat Sinn Fein.
He failed to secure the necessary cross-party support and did not end up putting his name on the ballot.
Unsurprisingly Brexit also featured on the campaign trail in a constituency whose western boundary runs along the Irish border.
The ongoing referendum campaign in the Irish Republic on the state's restrictive legal framework on abortion undoubtedly also had an impact on the dynamic of the by-election debate north of the border.
The candidates' position on the emotive issue was subjected to greater scrutiny than they might have expected.