Two boys, aged 12 and 15, have been shot in north-west London.
Police were called just minutes apart to the shootings at two locations in close proximity in High Street, Wealdstone.
Both boys have been taken to hospital and Scotland Yard said they await details of their condition.
Officers were called to High Street at 1.17pm on Sunday to find a 15-year-old boy had been shot.
Two minutes later they were alerted by London Ambulance Service about a second victim, aged 12, who had been shot at a different location nearby.
Police said they are investigating whether the two incidents are linked.
No-one has been arrested and no firearm has been recovered.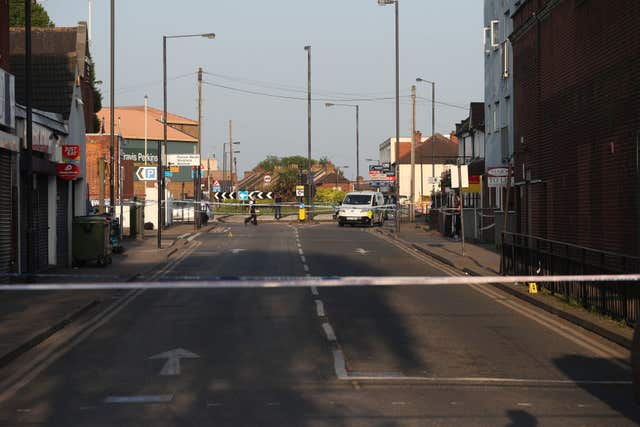 A grey adidas sweatshirt with blood stains on the hood lay crumpled on the ground outside a Specsavers store along with a police exhibit number.
A shopkeeper said the youngster was "lucky to be alive" and they believe a bullet grazed the back of his head.
The manager of a betting shop, who did not give his name, said he was passing by on his lunch break and saw people gathered outside Specsavers around a black man on the ground.
He said: "He was holding his head down. I could not see his face but could see his white t-shirt was proper covered in blood.
"He was sitting calmly as the paramedics were looking after him."
He described Wealdstone as a "kind of rough area and it can be a bit aggressive".
He added that "seeing police around here is just another day" and he was used to seeing boys "just hanging around" in the street.
A green first aid bag could be seen behind the cordon as forensics officers took photographs and passers-by were diverted from the scene.