An endurance athlete has described his relief at completing a 3,980-mile trip across Europe on a bicycle, surviving freezing temperatures, pulled muscles and nights sleeping on the side of motorways.
Sean Conway cycled the distance from the west coast of Portugal to Russia in 24 days, 18 hours and 39 minutes, and said he had to ride the last 500 miles pedalling with just his left leg, after pulling his right quadriceps.
He believes his finish time on Friday morning is a world record and says he will lodge his result with Guinness World Records when he returns.
Mr Conway completed the challenge unsupported, carrying all of his kit with him along the way, cycling 16 hours a day.
He slept rough on 19 occasions, not packing a tent because at 380g it would weigh him down. He showered just five times.
It was the second time he attempted to beat the world record, after having to withdraw from a previous journey due to injury last year.
Speaking from a hotel in Ufa, Russia, just hours after he finished, the upbeat 37-year-old said his first emotion was relief.
"Every single day something hurt, and the pain just moved around. One day it was my knee, then my hamstring, then my lower back, because you change your style.
"The one major issue was the inside of my quad – I properly pulled that about a week ago so I did about 500 miles predominantly with my left leg."
"If I wasn't ahead of the record at that time it could potentially have been a cause to pull out, but I was, so I could afford to lose some time and stay on top of the game," added the rider from Cheltenham.
Mr Conway said his favourite moment was crossing the finish line in Russia, saying: "A lot of people say that it's not about the destination, it's all about the journey – well bollocks to that – it's all about the destination.
"Truthfully, I kind of only remember countries by their road quality. Russia was the worst by a mile.
"I was sleeping in drainpipes under highways, trucks bombing past just a few feet away from my head, hoping that a wolf or bear wouldn't join me as well. 
"Looking at a map, I was surprised how many bears and wolves there are in Europe. I was joined by raccoons and rats though."
Conway's next job is getting home. "I've managed to find a bike box and have found a flight tomorrow.  My next issue is finding a taxi that will fit me and my bike box to take me to the airport."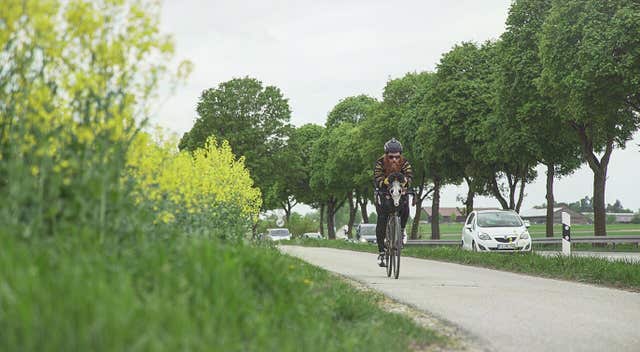 The first phone call he made was to his fiancee Caroline, who he is marrying in the summer. He said she was relieved that he was safe and sound.
It was not the first time Mr Conway has taken on an endurance challenge.
In 2016 he completed a 4,000-mile continuous "ultra-triathlon", swimming, running and cycling around the entire coast of mainland Britain.
For now, he says he just wants to get home and get married.