A club promoter accused of killing a public schoolboy with one punch after he said "One day you will work for me" in a row at a Greek party resort, felt threatened, a court heard.
Harrow pupil Archie Lloyd was celebrating the end of his A-level exams with friends in Malia when he was knocked to the floor on August 6, 2015, a trial in Crete heard on Tuesday.
Sebastian Trabucatti appeared at the Court of First Instance in Heraklion facing manslaughter charges after a UK coroner recorded a verdict of unlawful killing at an inquest in 2016.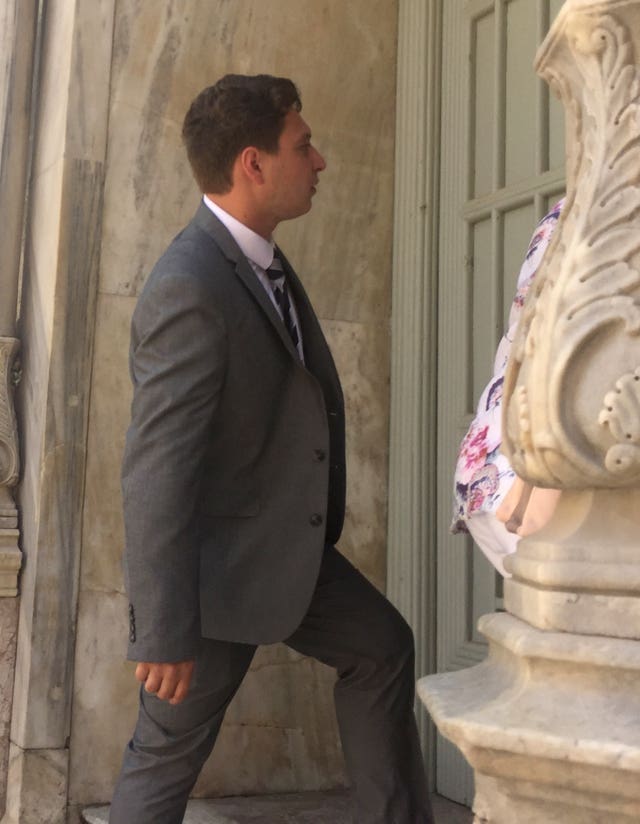 The group had exchanged insults which culminated in Mr Lloyd
saying to Trabucatti, "One day you will work for me", before walking off, jurors were told.
The 25-year-old, who said in court he lived in Haywards Heath, West Sussex, was charged in 2015 and released on bail while the senior public prosecutor in Crete investigated.
Trabucatti looked bewildered and cried during most of the proceedings.
It is the first time he has publicly answered questions about the incident, after refusing to attend the inquest.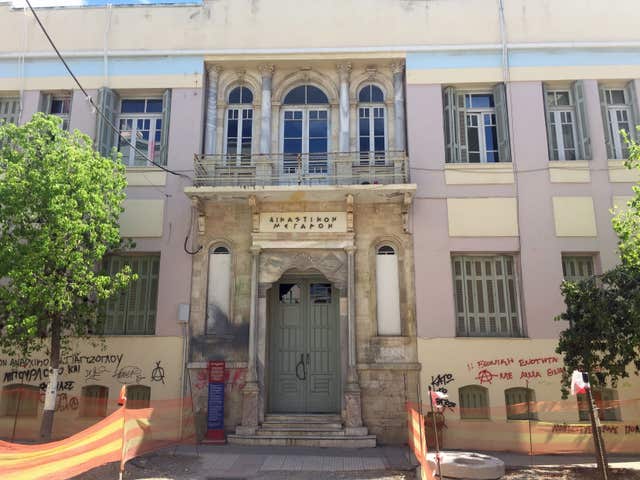 But Mr Lloyd's father James, who travelled to the island with his family to give evidence in the case, said: "The only person who saw how badly Archie was hurt was the defendant.
"The only person who saw the fall clearly was the defendant.
"He was 18, he had his whole life ahead of him. "
Mr Lloyd, of Micheldever near Winchester, Hampshire, died on the penultimate day of his Interrail holiday after the alleged assault occurred near the Cloud Nine nightclub where Trabucatti had worked.
The month-long trip around Europe with four school friends came just after he turned 18 and finished exams.
He and Mr Hutchinson had been walking in the middle of the road but clashed with Trabucatti when he and two women on quad bikes hooted at them to move out of the way.
They had briefly met hours earlier in a nightclub toilet where they talked
about girls and their trip, the packed courtroom was told.
Trabucatti pushed Mr Hutchinson to the floor and then punched Mr Lloyd in the face after telling the pair to apologise for shouting obscenities to the women, the court was told.
Paramedics checked him at the scene and gave him the all clear before the group went back to a villa they had rented in nearby Sissi.
Fearing he had not spoken since being hit and because he seemed drowsy, they got him into bed and tried to ring emergency services but could not get through.
They woke a few hours later to find he had died.
Mr Hutchinson said he felt "scared" during the altercation and did not see what happened after Mr Lloyd's comment.
Afterwards he said he heard a woman say: "You deserved that," before seeing his friend lying on the ground.
He said Mr Lloyd was unresponsive for about 30 seconds before he "squeezed his hand" indicating he was conscious, before adding: "He couldn't speak.
"A security guard was there, he indicated with his fist, the sign of a punch, so I assumed he had been punched."
Trabucatti said when the row broke out he told the pair to "back off" and apologise for the insults, adding: "I wasn't angry, I was scared. There were two boys, they were massive.
"They came towards us and in our personal space. I felt threatened, threatened is probably a better word. They were shouting, swearing, coming close to us.
"It was kind of a wake-up slap, on the left cheek. Like to say 'what are you doing?'
"I slapped him, yes. But I don't think my actions led to this. I could never have foreseen that."
The three judges and four jurors will now retire to consider their verdict.