England fans were brimming with confidence ahead of the Three Lions' World Cup group decider against Belgium, whose fans feared the threat of Harry Kane.
Thousands of England fans are expected to travel to Kaliningrad for the game, with 2,659 tickets sold through the Football Association alone.
A large group of supporters gathered in a pub in central Kaliningrad, the capital of the Russian exclave of the same name, and sang late into Wednesday evening.
That was despite the fact England have not won a knockout game since the World Cup in 2006.
But Belgium boss Roberto Martinez reportedly favours a second-place finish and is expected to rest players.
Belgium fan Mark Moors, 50, from Brussels, said he agreed with his national team's manager and preferred a draw with England.
He said: "For tomorrow I hope it will be a good game because I'm afraid second place may be better in the group.
"Because of the next rounds and the opposing teams you are going to meet.
"All players with a yellow card and with minor injuries, they will not play.
"It's going to be six or seven players.
"I think it's logic.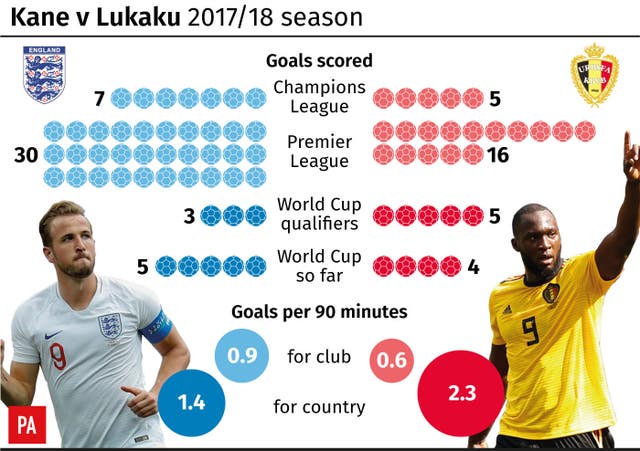 He added he was concerned about the prowess of England captain Kane, who is the tournament's top scorer with five goals so far.
"Kane can hurt us," he said.
"But I think it's the same like Belgium they have a great attack and then the defence there might be some weakness.
"Kane is strong, he has confidence right now, he wants to be the top scorer.
"That's the guy we fear."
England fans are expected to turn out in greater numbers for the match, nicknamed the Brexit derby, after one leading fan group estimated the turnout for the first game against Tunisia was the lowest travelling support for 30 years.
And Will Tomlinson, 34, from Retford, in Nottinghamshire, said he hoped for an English influx as the team progressed through the tournament.
He said: "We've got loads of friends who were umming and ahhing whether to come.
"We want to see every England fan coming over, especially now we are playing well."
England play Belgium at Kaliningrad Stadium at 7pm UK time.