Tennis fans told of their disappointment at Andy Murray's withdrawal from Wimbledon, but Federer fever reigned strong as enthusiasts camped out ahead of this year's tournament.
People pitched up their tents at Wimbledon Park on Sunday, some having spent two nights on the pavement to ensure courtside seats when Roger Federer takes to centre court on Monday for the first day of the championship fortnight.
First in the queue was Darius Platt-Vowles, who slept nearby in his car on Thursday and started queuing on Friday afternoon
The 24–year-old from Gloucestershire said he was surprised at Murray's decision, taken as he continues his recovery from hip surgery, but is excited to see his number one player at centre court.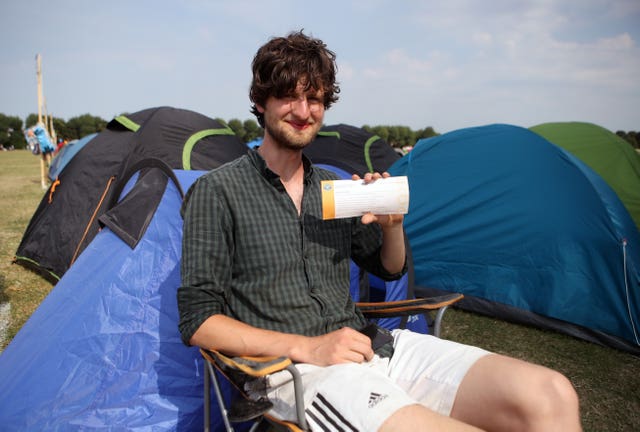 "I am really surprised though and I was looking forward to seeing Murray playing because I thought he was recovering well."
Renate Davies, from Oxford, said she was "really, really sad" to hear about Murray.
The 62-year-old joined her friend Alex Rivers, 65, also from Oxford, as they sipped prosecco in the sun on fold-out seats near their tent.
Ms Davies said: "We are so sad. I am surprised because I was really hoping his fitness would be better and that he might get to centre court."
Among the sea of tents in the so-called K-lines where the queue started this weekend many people wore RF hats to show their allegiance to the Swiss champion.
Stefan Moser, from Salzburg in Austria, convinced his mother to queue and the pair managed to land the number three and four spots.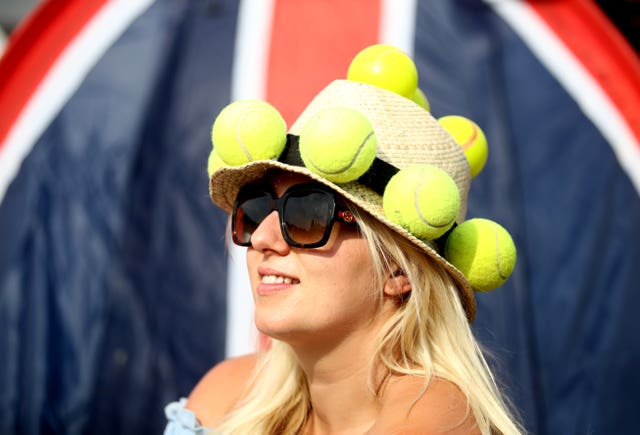 The fine arts student, 25, brought a blow-up mattress to make sure his mother was comfortable in the basic conditions.
Ms Moser said she was enjoying the experience, adding: "Federer is reason enough to queue."
Mr Platt-Vowles, Mr Moser, his mother and their friend Monique Hefti took the first four spots in the line, describing themselves as "queue buddies".
The group all met through queuing separately at previous Wimbledons and have kept in touch since.
Ms Hefti, from Massachusetts in the United States, said: "I was trying to move my tent one year and Darius and his friend very kindly helped me. We now meet every year and queue together."
Ms Davies, who also queued last year, said she thought there seemed to be a much bigger crowed arriving earlier this time around.
"We got here on Saturday lunchtime and the four of us got 197-200. Last year we arrived at the same time and I was number 14.
"I think it's the great weather, Roger Federer, and I suppose each summer more people are coming from all over the world.
"Our neighbours (in the tent next door) are from Shanghai."
Ms Rivers added: "Everybody is so friendly here and in great spirits."
Temperatures reached 30.4C at Wimbledon on Sunday afternoon.