Theresa May's Cabinet have gathered at the Prime Minister's country retreat, Chequers, for a high-stakes showdown over Britain's future relations with the EU.
In a session expected to last at least 12 hours, ministers will be asked to approve a plan which could see the UK sign up to EU rules on agriculture and food, potentially making it much harder to strike a post-Brexit trade deal with the US.
The plan, set out by Mrs May in a document more than 100 pages long and distributed to ministers only on Thursday, has sparked fury in the Leave camp and prompted speculation that Cabinet Brexiteers could be ready to walk out of the Government.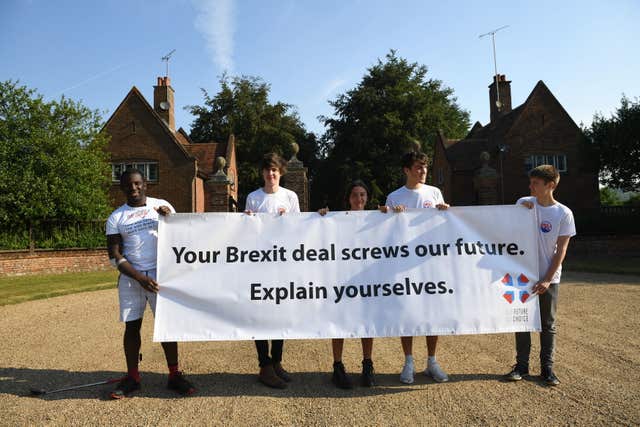 Downing Street insisted it is "categorically untrue" that the post-Brexit relationship with the EU envisaged by Mrs May would make a trade deal with the US impossible.
And the Prime Minister herself insisted the Government would secure a Brexit which would allow "ambitious" trade deals with the US, Australia and New Zealand.
But the proposals led to open revolt among Eurosceptic Tory MPs, while Brexit Secretary David Davis is understood to have severe reservations about both the proposal and whether it could prove acceptable to Brussels.
Leading Brexiteer David Jones – a former minister at Mr Davis's Department for Exiting the EU – said the proposed deal breached all three of Mrs May's red lines of leaving the single market, customs union and jurisdiction of the European Court of Justice.
Describing the plan as "not very good at all", Mr Jones told BBC Radio 4's Today that it would deliver "something less than the full Brexit we have had repeated promises of by the PM and Cabinet members".
Pro-EU former minister Nicky Morgan said any Cabinet members who do not like the position agreed at the PM's Buckinghamshire residence should consider resigning.
"What we cannot see is a position that is briefed out tomorrow morning and then over the next 48 hours members of the Cabinet start to undermine or query it or anything else," said the former education secretary.
The entire Cabinet, including ministers who are not full members but attend meetings, arrived one by one by car at Chequers on Friday morning in time for discussions to start at 10am.
International Development Secretary Penny Mordaunt was the first to be driven past a small group of anti-Brexit protesters into the 16th century redbrick manor house.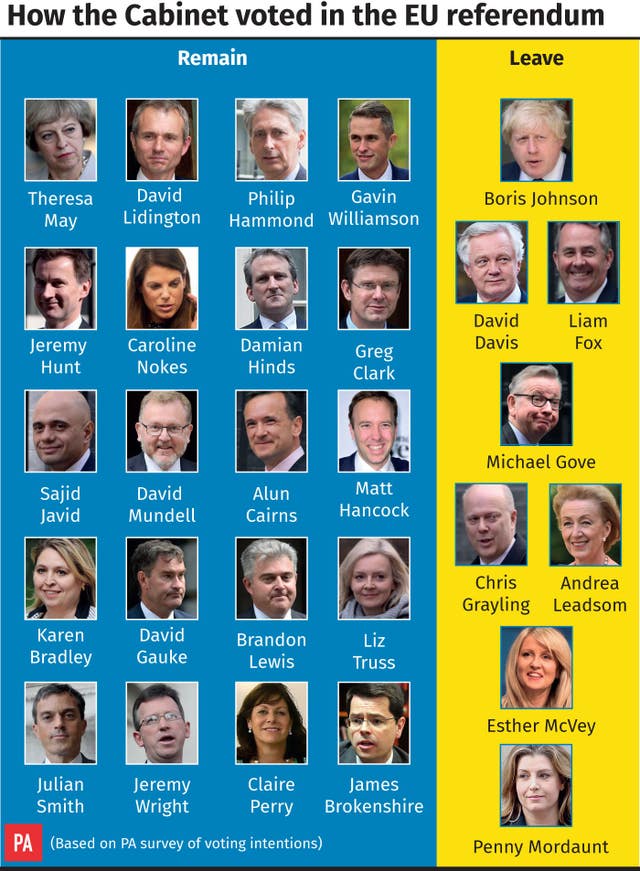 She added: "In doing so, we have a great opportunity – and a duty – to set an ambitious course to enhance our prosperity and security outside the European Union, and to build a country that genuinely works for everyone.
"We want a deal that allows us to deliver the benefits of Brexit – taking control of our borders, laws and money and by signing ambitious new trade deals with countries like the US, Australia and New Zealand.
"This is about agreeing an approach that delivers decisively on the verdict of the British people – an approach that is in the best interests of the UK and the EU, and crucially, one that commands the support of the public and Parliament."
On the eve of the Chequers meeting, Brexiteer ministers Boris Johnson, Mr Davis, Michael Gove, Liam Fox, Esther McVey, Ms Mordaunt and Andrea Leadsom held their own private talks in Westminster.
International Trade Secretary Dr Fox then spent 50 minutes in 10 Downing Street, and was later said to be happy with reassurances he had received from the Prime Minister.
Chief Whip Julian Smith, in charge of party discipline, insisted "the Prime Minister will have a great day" at Chequers.
It is understood that the PM's proposals suggest the UK should maintain a "common rulebook" with the EU for all goods, including agricultural and food products.
And it acknowledges that these arrangements "would not allow the UK to accommodate a likely ask from the US in a future trade deal" as the UK would be unable to recognise the US's "array of standards".
American commerce secretary Wilbur Ross has previously warned that a failure by the UK to break away from EU food safety rules in areas such as GM crops and chlorinated chicken would get in the way of a successful trade agreement.
The document also reportedly says that "we would strike a different arrangement for services, where it is our interests to have regulatory flexibility, recognising this will result in reduced market access".
Tory Lucy Allan said "this is not Brexit", while fellow MP Andrea Jenkyns said Brexiteers "cannot support any deal that restricts our trade with other countries".
She warned "from what we are hearing, prepared to vote against this".
One Brexiteer source said backbench Eurosceptics did not expect the PM's plans to even reach MPs because "Boris and David aren't having it".
But a Number 10 spokeswoman said: "It is categorically untrue to suggest that we will not be able to strike a trade deal with the US."