The US Embassy in London has warned protests during Donald Trump's visit this week could turn violent.
Issuing a demonstration alert ahead of the presidential trip, the embassy urged people to keep a low profile as protests span three days.
Gatherings and rallies are planned across the UK from Thursday, when Mr Trump is expected to touch down in Britain.
The embassy warned people to be aware of their surroundings, to "exercise caution if unexpectedly in the vicinity of large gatherings that may become violent", keep a low profile and keep abreast of police guidance.
Demos on Thursday include one near Blenheim Palace in Oxfordshire where Mr Trump will attend a black-tie dinner, and another not far from the US ambassador's residence in Regent's Park, where Mr Trump and his wife Melania will stay overnight.
A large baby blimp caricature of Mr Trump is set to be flown at Parliament Square on Friday morning, ahead of a series of further gatherings including an anti-Trump and anti-Tory 12-hour "DJ marathon party" in Soho, and a march at Cavendish Square Gardens by the Friends of Al Aqsa and Muslim Association of Britain on Friday afternoon.
As Mr Trump enjoys a working lunch with Theresa May at her country residence Chequers, demonstrators have been encouraged to bring a "suitably pithy placard" to a child-friendly protest near the Buckinghamshire property.
Busloads of protesters will come from across the UK to London for an early-evening rally at Trafalgar Square on Friday, organisers from umbrella group Together Against Trump said.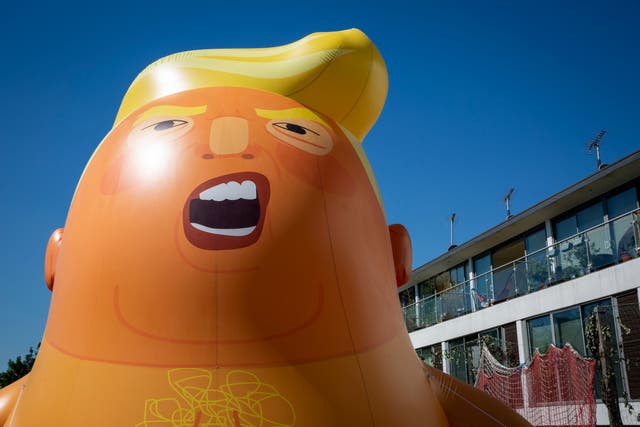 While no plans for Mr Trump to enjoy a round of golf have been confirmed, a protest will be held outside the president's Balmedie course in Aberdeenshire on Saturday, and it is expected there could be demonstrations around his Turnberry resort too.
A national demonstration is planned at the Scottish Parliament in Edinburgh on Saturday, as well as a "Carnival of Resistance" in the Meadows area of the capital.
In its alert the embassy said: "The majority of the demonstrations will be focused in central London on July 13, with other events planned for July 12 and 14.
"Several of the events are expected to attract large crowds and there will be road closures in connection with those events."