Theresa May has used a lavish welcome dinner for Donald Trump at Blenheim Palace to press her case for an ambitious new trade deal with the US after Brexit.
Critics of the Prime Minister's proposals for future relations with the EU claim that her willingness to align with Brussels rules on agricultural produce will block a US deal, as Washington is certain to insist on the inclusion of GM crops and hormone-enhanced beef, which are banned in Europe.
But addressing the US president in front of an audience of business leaders at Winston Churchill's birthplace, Mrs May insisted that Brexit provides an opportunity for an "unprecedented" agreement to boost jobs and growth.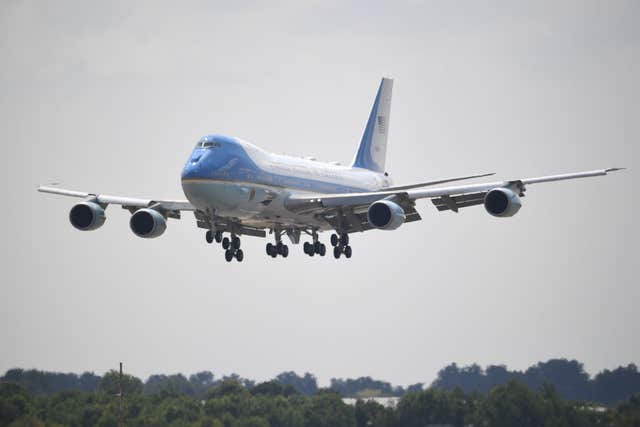 "It's an opportunity to reach a free trade agreement that creates jobs and growth here in the UK and right across the United States.
"It's also an opportunity to tear down the bureaucratic barriers that frustrate business leaders on both sides of the Atlantic.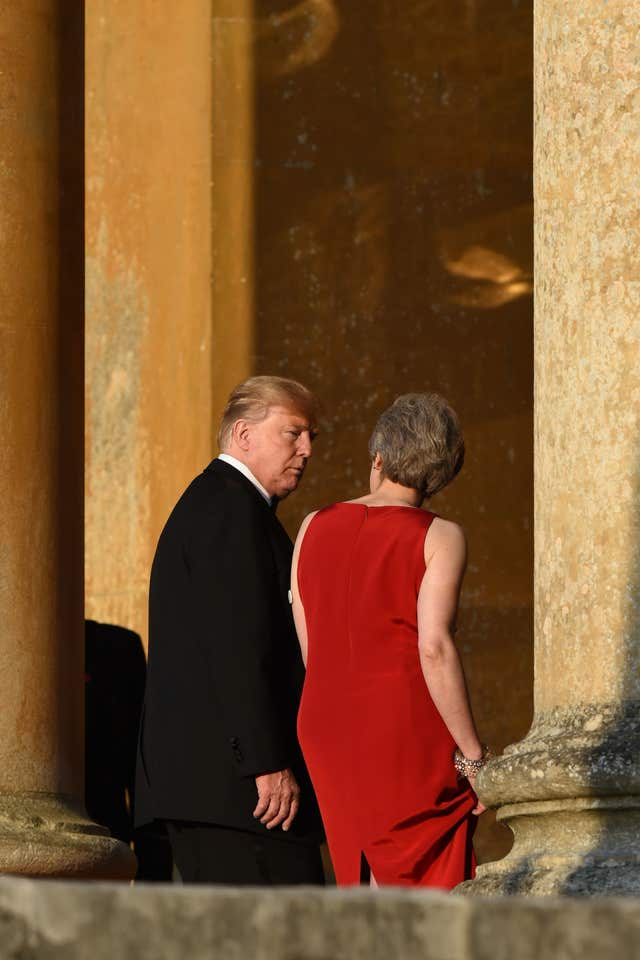 Mrs May, dressed in an ankle length red gown and red high heeled shoes, and her husband Philip, in black tie, welcomed Mr Trump and wife Melania to the gala dinner on the first evening of the President's working visit to the UK.
Mrs Trump was dressed in a floor length yellow ball gown.
In a near replay of their famous hand-holding at the White House, the president briefly took Mrs May's hand as they went up the stairs into the palace.
The Trumps arrived from London by Marine One helicopter before being driven in the armoured presidential limousine, nicknamed The Beast, to the opulent 18th century palace near Woodstock in Oxfordshire.
Built for the Duke of Marlborough in recognition of his military victories and named a Unesco World Heritage Site, Blenheim is one of a series of historic architectural gems Mr Trump will visit on a four-day trip which keeps him well away from protesters in central London.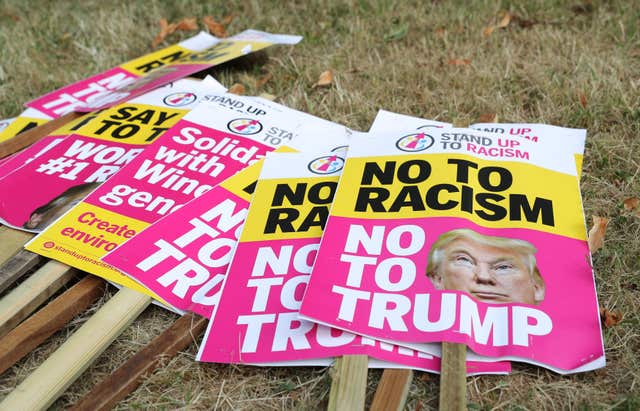 Leaders of the financial services, travel, creative, food, engineering, technology, infrastructure, pharmaceutical and defence sectors were among around 100 guests who dined on Scottish salmon, English Hereford beef fillet and strawberries with clotted cream ice-cream.
Mrs May told him: "Mr President, Sir Winston Churchill once said that 'to have the United States at our side was, to me, the greatest joy'.
"The spirit of friendship and co-operation between our countries, our leaders and our people, that most special of relationships, has a long and proud history.
"Now, for the benefit of all our people, let us work together to build a more prosperous future."
Mrs May said that the history, language, values and culture shared by the UK and US "inspire mutual respect" and make the two nations "not just the closest of allies, but the dearest of friends".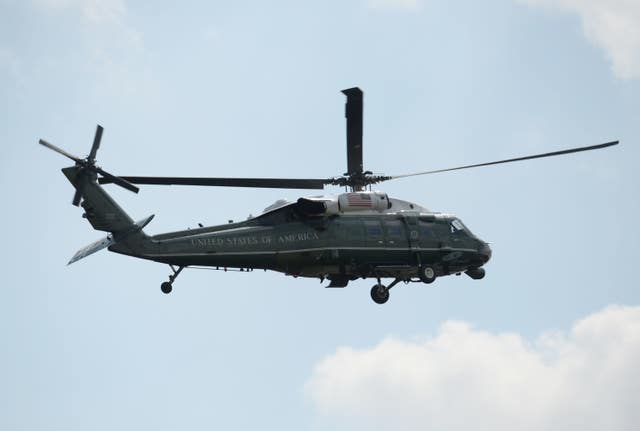 She also highlighted the importance of trans-Atlantic business links to a president who has sometimes seemed more interested in forging new links with former adversaries around the world, rather than nurturing long-standing partnerships.
Britain and the US are the largest investors in each other's economies, with over a trillion dollars of investments between then, said Mrs May.
And she told the president: "The strength and breadth of Britain's contribution to the US economy cannot be understated.
"The UK is the largest investor in the US, providing nearly a fifth of all foreign investment in your country.
"We invest 30% more than our nearest rival.
"More than 20 times what China invests. And more than France and Germany combined.
"That all means a great deal more than simply numbers in bank accounts.
"It means jobs, opportunities and wealth for hardworking people right across America."
British firms represented at the Blenheim banquet alone employ more than 250,000 people in the US, she said.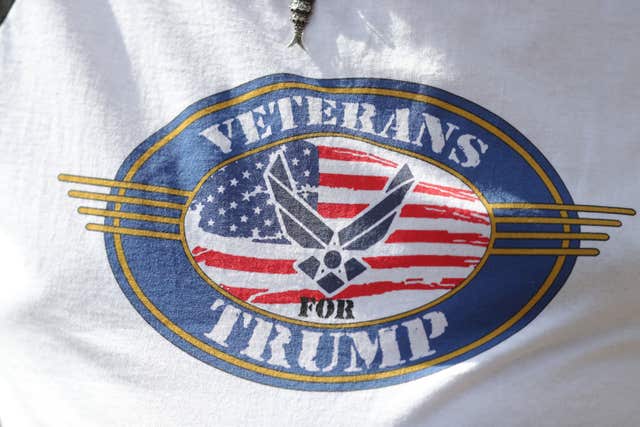 Boris Johnson missed out on a seat at the table by resigning as foreign secretary on Monday in protest at Mrs May's Brexit policy, though Mr Trump has said he might try to speak to him during his visit.
The Countess of Wessex's Orchestra played British and American hits of the 20th century during dinner.
And Mr Trump, whose mother was Scottish, was piped out by the Royal Regiment of Scotland as he and Melania left to spend the night at the US ambassador's residence in London's Regent's Park.
Outside the palace gates, several hundred protesters waved banners and placards reading Dump Trump, Not Welcome Here, Protect children Not Trump and Keep Your Tiny Hands Off My Pussy!