A little boy who was being rescued from Grenfell Tower told a fire officer the rest of his family were "all dead", an inquiry has heard.
Glynn Williams, a watch manager from Fulham who co-ordinated 999 call information at the foot of the block, described scenes of escalating horror on June 14 last year.
In a written account to the Grenfell Tower inquiry, the officer of 18 years' service said he struggled to keep track of who had been rescued.
He had been handed slips of paper with information provided by residents during fire survival guidance (FSG) calls to 999, which he wrote on a wall.
The sheer number of calls soon overwhelmed him, as crews had no training about safely rescuing someone through "a toxic environment 20-plus floors high".
Residents first appeared to be self-evacuating, but it became grimly apparent many had been carried down, suffering from smoke inhalation or burns.
His harrowing account, published on Monday, said: "At times I would ask the casualties themselves as they walked passed, but communication was difficult as they were either too traumatised to speak or unable to understand due to the language barrier.
"Most of the information I was able to correlate came from children as their English was better.
"There was a woman carrying a little boy. As the woman walked passed me crying, I asked them where the rest of their family were, to which the little boy said: 'All dead'."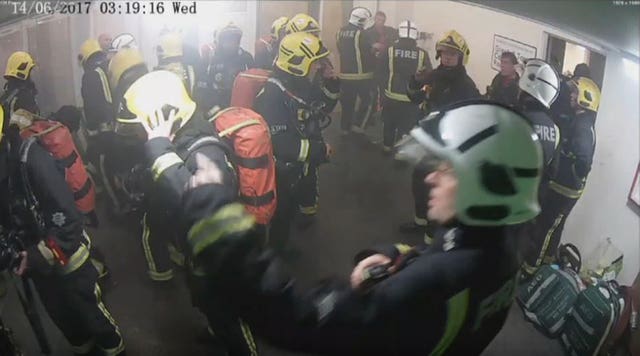 He said many crew members wearing breathing apparatus (BA) suits had returned from the upper floors low on oxygen and badly fatigued.
The chaotic evacuation meant it was not obvious which survivor had come from which flat, he indicated, making it hard to keep track of who still needed saving.
The fire officer told a hearing at Holborn Bars: "There was disorientation among BA crews coming out, they were exhausted, struggling to articulate what they had done.
"They showed signs of heat stress and often the people brought out weren't brought out individually – they were manhandled down the stairs, they were rallied down the stairs."
In his written statement, Mr Williams also recounted how flaming debris began raining down from the tower's facade, imperilling those who were trying to run to safety.
Children were being handed firefighters' helmets to keep them safe, he wrote.
One little girl was alone and in her pyjamas as she was being carried out.
He wrote: "She looked to be in shock as her eyes were wide open. To protect her from the falling debris, I gave her my helmet before the firefighter carried her out the main entrance."
Mr Williams added: "The Grenfell Tower had a massive emotional impact on me and shortly after the incident I started to feel really angry that (I) did not go in and rescue someone. When I was asleep I started to have visualisations of the little girl's face who I had given my helmet to."
One man had appeared "drunk" and needed medical attention, but paramedics refused to come close to the tower due to safety concerns, he wrote.
His witness statement laid bare the confusion and chaos that at times threatened to hamper the firefighting operation at Grenfell Tower.
The absence of a working fire lift meant rescue teams clogged the single stairwell – Grenfell's only escape route – which "prevented their ability to fight the fire and conduct rescues".
It also limited the amount of time crews could spend on the upper floors before their oxygen levels ran low.