Dorothy Ellis, the final First World War widow whose late husband inspired the novel War Horse, has died aged 96, her family said.
Niece Pauline Smith confirmed Mrs Ellis passed away in a nursing home on Wednesday.
She was the widow of veteran Wilfred Ellis, who was shot, gassed and left for dead on the front line in 1918.
His memories of the conflict helped shape the novel and theatre production War Horse by Michael Morpurgo, whom he befriended in later life.
Paying tribute to her late aunt on Thursday, Ms Smith, 63, told the Press Association: "It feels very strange because we were brought up with her being our aunt up the road and then you find out all this history.
"It's quite surprising – but it makes you very proud as well.
"She took a great interest in all the family, she didn't have any children, but in her nieces and nephews and then later on in life her great nieces and nephews, of which she had quite a few."
She married her husband in 1942 and served in the women's home guard auxiliary during the Second World War.
A 20-year age gap meant she outlived Mr Ellis by more than three decades and remained in the home they shared together for more than 70 years.
Her later years were defined by an indefatigable commitment to the memory of Britain's war dead, friend and Royal British Legion fundraiser Carole Arnold said.
She told the Press Association: "Dorothy was a very special lady, she had this museum in her house about Wilfred, her husband, she kept everything because she was so proud of him.
"She was so knowledgeable, so aware of what was going on because it is so important to remember World War One, to remember these veterans – and she remembered them.
"She was such a supporter of the military, such a supporter of the legion, she was so, so proud of being part of the history."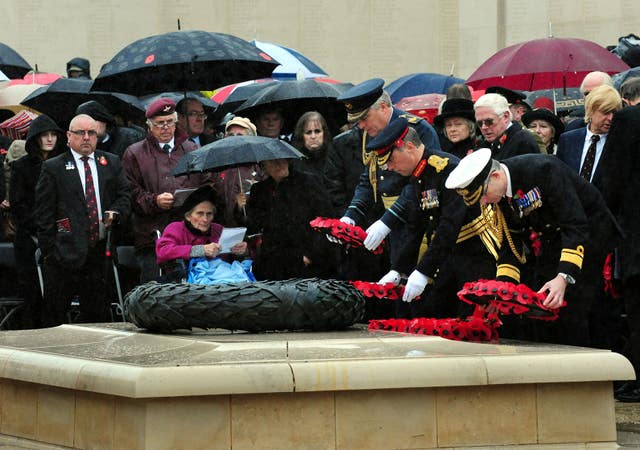 She considered it one of the best days of her later life, Mrs Arnold said.
Mrs Ellis said at the time: "My husband felt very strongly about Armistice Day and it was a day that was set aside as a solemn remembrance day.
"I noticed, he was always usually a very jolly person but on Armistice Day he would just go very quiet and at first I couldn't understand it but then I got to realise why he was being so quiet and silent.
"He said to me, 'you've got to remember this is the day that thousands of poor chaps died for us to keep us alive'."