Universities could be ordered to curb the soaring use of unconditional offers following concerns the practice is damaging for students.
Almost 68,000 unconditional offers were made to 18-year-olds in England, Wales and Northern Ireland this year, compared to less than 3,000 five years ago, according to Ucas data.
School and college leaders have called for an end to the practice, arguing that such offers can lead to students making less effort in their A-levels, which could damage their job prospects later on.
Universities Minister Sam Gyimah has branded the rise in unconditional offers "irresponsible" and warned handing out them out to put "bums on seats" undermines the credibility of the university system.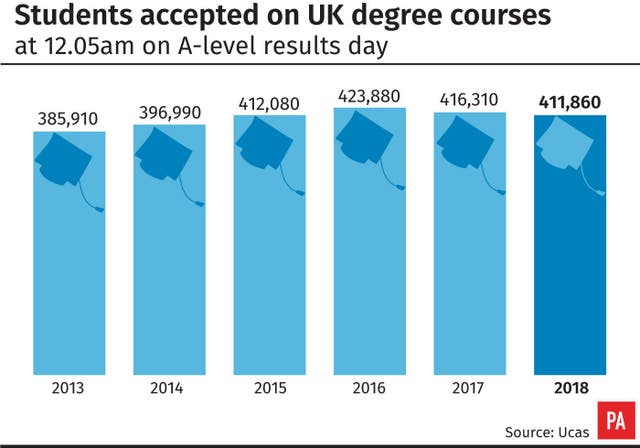 The department said it expects the regulator "to take appropriate action".
There was intense competition among universities to attract students this year.
Figures released on Thursday showed the total number of students accepted on to courses was down 1% compared with the same point in 2017.
However the proportion of 18-year-olds being accepted on to courses broke records.
Ucas data published on Thursday showed that in England, a record 27.9% of the 18-year-old population had been accepted on to courses, with a record 26.3% in Wales.
In Northern Ireland, the entry rate was 28.1%, while in Scotland – where results were published last week – 25.9% of 18-year-olds had been accepted.
Ucas figures showed 22.9% of 18-year-old university applicants (58,385) in England, Wales and Northern Ireland had received at least one unconditional offer.
Education Secretary Damian Hinds said on Thursday that unconditional offers "play a role in the system" and are "quite significant" in some subjects, including art.
He added: "I am concerned about the rate of growth that we have seen in unconditional offers and what that might indicate."
A DfE spokeswoman said on Friday: "Giving out unconditional places just to put 'bums on seats' not only undermines the credibility of the university system but does students a disservice by distracting them from their studies and swaying their decisions.
"We are concerned about the rise in unconditional offers.
"The Office for Students are closely monitoring the number being issued and we fully expect them as the regulator to take appropriate action."