A police officer used "unnecessary, unreasonable or disproportionate" force when she Tasered a race relations adviser, a misconduct hearing has been told.
Acting sergeant Claire Boddie was on uniformed duty with colleague Pc Darren Weston in the Easton area of Bristol at about 9.10am on January 14 last year.
The pair were driving to another incident when they saw Judah Adunbi, 65, walking on the side of the road with his dog.
A misconduct hearing at Avon and Somerset Police headquarters in Portishead heard they believed Mr Adunbi was wanted man Royston McCalla and stopped to speak with him.
"It escalated from that to the point at which Pc Boddie used a Taser on Mr Adunbi. One of the barbs of the Taser struck Mr Adunbi in the face, causing a minor injury to his chin."
Pc Boddie insists she was acting in accordance with her training and the force she used on Mr Adunbi was lawful, claiming that he posed a threat as he had keys in his hand and was "using violence to escape".
She was cleared of assaulting Mr Adunbi following a trial in Salisbury in May.
Mr Thomas said Pc Boddie used the X26 Taser on Mr Adunbi when he was moving away from her and had his hands down.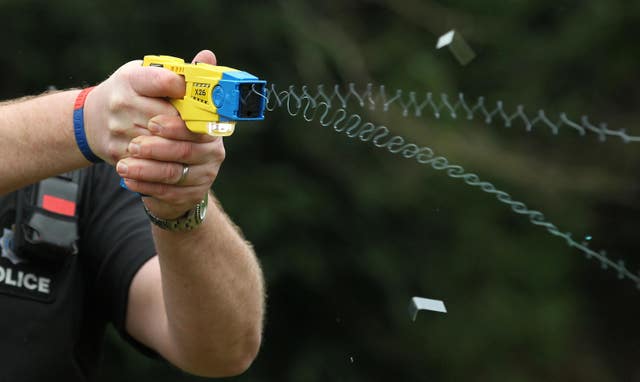 "Having drawn the Taser, she fired it from a reasonably close range in such a way that one of the barbs struck Mr Adunbi in the face," he said.
"It is not alleged that Pc Boddie deliberately aimed that Taser to Mr Adunbi's face."
Footage taken from bodycams worn by Pc Boddie and Pc Weston, as well as a mobile phone recording, was played to the hearing.
It showed the officers repeatedly asking Mr Adunbi to identify himself, with the community elder replying: "I'm not telling you my name. I have done nothing wrong."
He is heard shouting: "Why you coming to torment me? Go f*** off about your business and don't follow me. Stop, stop, if you put your hand on me I'm gonna f*** you up.
"I'm not threatening you. I'm telling you if you put arms on me I'm going to defend myself. This is not the first time you have done this."
In the mobile phone footage, a neighbour is heard telling the officers: "He is just trying to get into his house. Leave him alone."
Mr Thomas said Mr Adunbi, who had previously been stopped and accused of being Mr McCalla, was under "no obligation" to provide officers with his identity.
"It is apparent from the footage that angry though he is, Mr Adunbi is indignant that he has been stopped," he said.
Pc Boddie drew her Taser at Mr Adunbi and used it to put a "red dot" on him, before putting it away.
There was a scuffle after Mr Adunbi used his keys to open his gate and Pc Boddie discharged her Taser, shouting that she had done so.
Mr Thomas described this as an "unnecessary, unreasonable or disproportionate use of force in the circumstances".
He said there was a "three second window" between Pc Boddie claiming she had seen Mr Adunbi punch Pc Weston and her discharging the Taser.
"It doesn't appear that she really takes any care to aim it, other than roughly in Mr Adunbi's direction, before she pulls the trigger," Mr Thomas said.
Mr Adunbi was later taken to hospital to have the barb removed from his face.
Pc Boddie started her policing career in 1994, working at Avon and Somerset Police as a special constable. She joined Wiltshire Police as an officer in 2008.
In 2012, she attended an initial Taser training course and was authorised to carry the weapon. She completed refresher training in 2013 and transferred to Avon and Somerset Police that year.
She completed a second initial Taser training course in 2014.
Giving evidence at the hearing, Pc Boddie said she had never been accused of misconduct before, or of using unlawful force.
The officer said she was acting using the National Decision Model at all times, with Mr McCalla having markers for violence and weapons.
She said Mr Adunbi threatened that he would "put to sleep" Pc Weston, adding that she took this to mean: "That he was going to kill him."
Pc Boddie said she drew the Taser for the first time but Mr Adunbi was still not "fully calmed down" and she still "viewed him as a threat".
After putting it away, Mr Adunbi was in a "fighting stance" and used his gate to "crush" Pc Weston as the officer attempted to handcuff him, she said.
In a statement, Pc Weston said: "He has pulled the gate against me with a lot of strength. I have tried to grab his left wrist to apply handcuffs and he has wrenched it from me with force. He needs to be arrested."
Pc Boddie said she believed Mr Adunbi had punched her colleague and drew her Taser for a second time, aiming it at Mr Adunbi's chest area.
The misconduct hearing is listed for two days.