Chris Grayling claims it is "not straightforward" to overrule rail industry leaders, after an investigation into the May timetable disruption found "nobody took charge".
An interim report by the rail regulator warned of a "lack of clarity about roles and responsibilities".
The Government responded to the release of the findings by announcing a review of Britain's railways which will consider all parts of the sector, including accountability, the franchising system and value for money.
The May 20 timetable change was intended to deliver huge benefits to passengers as a result of major upgrades to the network, but instead saw services crippled in the north and south-east of England.
GTR and Northern cancelled up to 470 and 310 trains respectively each day during the disruption, which lasted several weeks.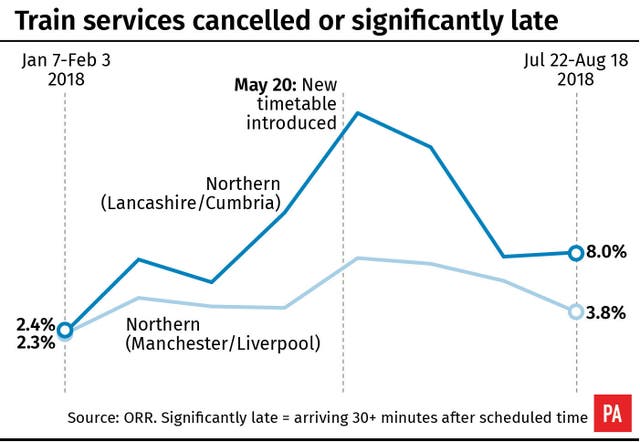 Following the publication of the report, Mr Grayling, who has previously insisted "I don't run the railways", said he and the DfT "take responsibility for what we didn't do well enough, which is to ask the difficult questions".
He told BBC Breakfast: "When you're a politician sitting in front of leaders of the industry and they're saying to you 'we're ready', actually to overrule them is not straightforward."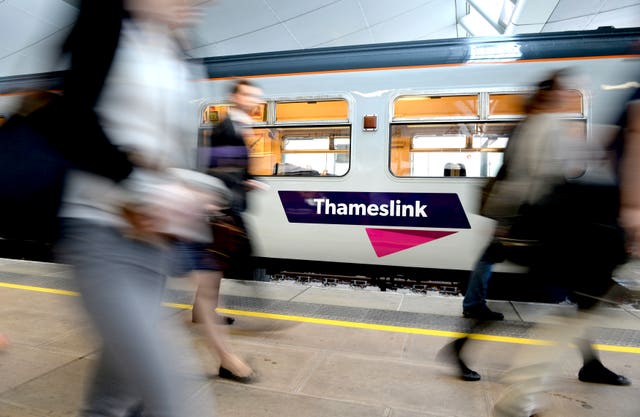 If there was a final go/no-go decision point, it was in autumn 2017.
The report stated: "The present industry arrangements do not support clarity of decision making: it was unclear who was responsible for what.
"Nobody took charge."
The regulator's 183-page report catalogued failures by various organisations which led to passengers suffering a "significant financial and emotional cost".
They included:
– Delays with Network Rail's electrification work in the North.
– Network Rail's unit responsible for producing timetables did not have a sufficient method of working to manage the scale of changes required.
– GTR and Northern were not "properly aware or prepared" for the problems with the new timetables and did not do enough to provide accurate information to passengers when disruption occurred.
ORR chairman Professor Stephen Glaister, who led the inquiry, said: "Good intentions and over-optimism within the rail industry about its ability to recover missed deadlines left no time to uncover and fix problems.
"When problems arose, timetable planners were stretched and train operators were ill-equipped to help passengers."
The Government said the rail review will be "the most significant since privatisation".
It will be led by Keith Williams, deputy chairman of John Lewis and former chief executive of British Airways, who will be supported by an external panel.
A White Paper will be published next year after Mr Williams publishes his report. Reforms are expected to be implemented from 2020.
He said the industry is facing "significant challenges".
Punctuality is at a 12-year low and commuters face an increase of up to 3.2% in the cost of season tickets from January.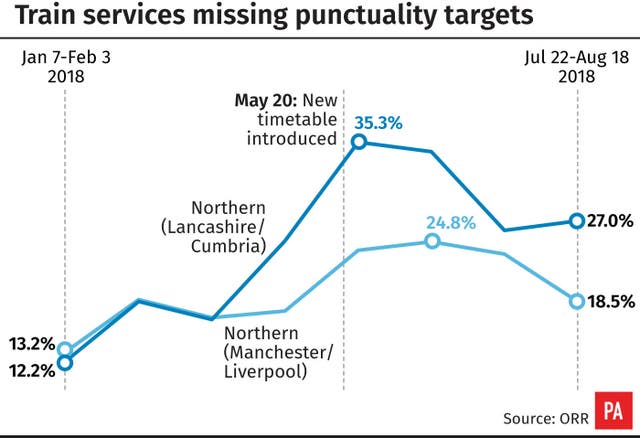 These issues have fuelled calls for the entire network to be taken into public ownership.
Mr Grayling will hope the rail review will reduce calls to stop private firms running services.
He accepted that the railway "needs reform to prioritise its passengers" and noted plans for closer partnerships between track and train operators on the East Coast and South Eastern routes.
He went on: "We need to go further and more quickly, to get the best from the public and private sectors, and deliver the railway we need for the 21st century.
"It is vital that this review leaves no stone unturned and makes bold recommendations for the future."