A father has spoken of his terror as he rushed his six-week-old baby to safety while a large coffee factory near his home burst into flames.
The fire broke out at UCC Coffee's roastery in Dartford, Kent, at around 5.30am on Thursday.
Firefighters were called to tackle flames on the ground floor of the large warehouse on the Riverside Industrial Estate off Central Road.
At its height 10 fire engines attended. Staff and nearby residents were evacuated.
The family were evacuated by police and have taken refuge with relatives who live in another part of town.
The 29-year-old water company manager said: "I woke up this morning to head to work and heard a lot of noise outside.
"There is a lot of construction work on our road so our first thought was that they had started work early.
"I headed outside and could feel the heat as soon as I stepped out the door. It was already fully ablaze.
"I could see orange flames and hear lots of crackling.
"I went back in straight away to tell my partner to get dressed and get our baby ready too."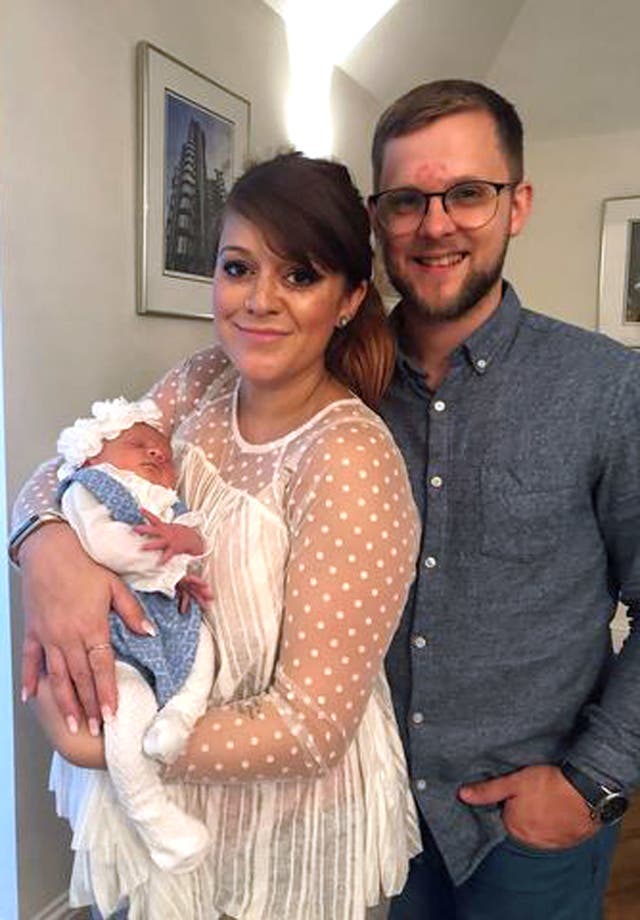 "It was scary as there was lots of crackling. Being evacuated due to risk of explosion was quite terrifying.
"There were a lot of people being evacuated and a lot of spectators. There was panic and confusion."
He praised the response of emergency services, saying: "We just hope everyone's safe who worked there.
"We've walked to my Mum's as we have been told we will not be able to return until later this afternoon."
Pictures of the blaze posted online show large orange flames engulfing the building and huge flumes of thick, dark, billowing smoke wafting across the town.
Crews are still at the scene working to prevent the fire spreading further. There were no reported casualties, a Kent Fire and Rescue Service spokeswoman said.
Firefighters are still trying to establish the cause of the fire and the extent of the blaze.
Residents and businesses are urged to keep doors and windows closed because of smoke in the area. Roads around the warehouse have been closed.
A fire service spokeswoman said the building was roughly 40 square metres in size with around 50 residents were evacuated.
She added: "The alarm was initially raised by an employee inside the building, which was swiftly evacuated, and there are no reported casualties."