Hate crime in England and Wales rose by nearly a fifth last year, according to police figures.
There were 94,098 such offences recorded by police in total in 2017/18, an increase of 17% on the previous year.
This included 71,251 classed as race hate crimes; 11,638 (12%) offences triggered by sexual orientation; 8,336 (9%) where religion was a factor; 7,226 (8%) motivated because of someone's disability; and 1,651 (2%) were transgender hate crimes.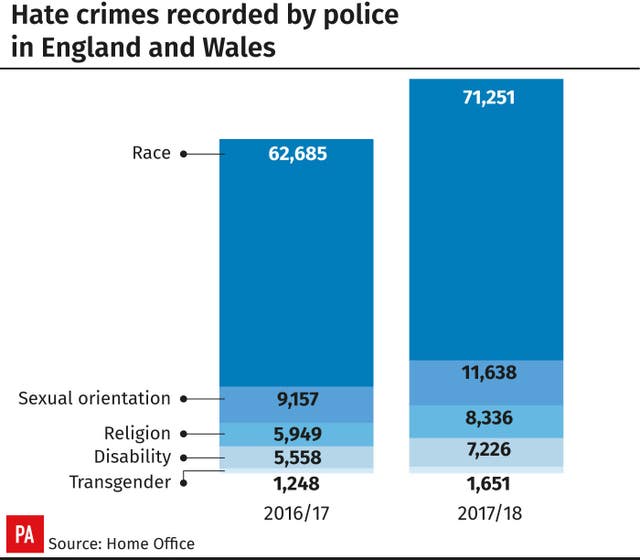 Data from the Home Office shows that the sharpest rise was in religious hate crime, which rose by 40% from 5,949 in 2016/17.
The number of offences recorded as transgender hate crimes went up by 32% from 1,248, disability rose by 30% from 5,558, and sexual orientation increased by 27% from 9,157.
The number of hate crimes according to police figures has more than doubled since 2012/13 from 42,255 to 94,098. This includes all allegations recorded by police as hate crime, including those which may not have resulted in charges or convictions
This is partly because of improvements in the way crimes are recorded but there have been spikes after events such as the Brexit referendum and the terrorist attacks last year.
Encouraging victims to come forward, the National Police Chiefs' Council lead for hate crime, Assistant Chief Constable Mark Hamilton, said: "People should be able to live their lives free of harassment and fear. It is likely that the majority of the increase in police recorded hate crime is down to more victims reporting and better recording, however, the rise in religious hate crime is likely to be genuine and linked to terror attacks in 2017."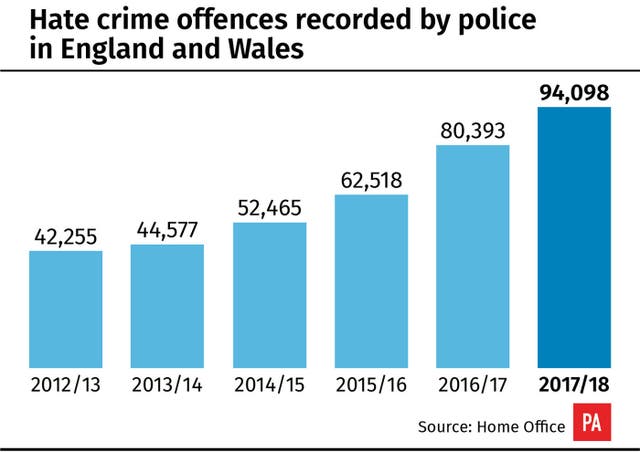 The police figures showed that more than half (56%) of the hate crimes recorded were for public order offences and a further third (33%) were for crimes involving violence against the person.
In the year ending March 2018 there were 1,065 online hate crimes.
Hate crimes and incidents are defined as those perceived to be motivated by hostility or prejudice based on a personal characteristic.
Five strands are monitored centrally: race or ethnicity; religion or beliefs; sexual orientation; disability; and transgender identity.
Some forces log other types of hostility under the hate crime heading, including reports of misogyny and incidents where victims were targeted because of their age or membership of an "alternative sub-culture", such as goths.
Despite the increase in recorded crime, the number of completed prosecutions fell from 14,480 in 2016/17 to 14,151 in 2017/18 – a drop of 329 or 2.3%.
The Crown Prosecution Service said the conviction rate in hate crime cases was 84.7%, up from 83.4% the previous year.
It also said tougher sentences were handed down in two-thirds of cases after prosecutors highlighted aggravating factors to judges.
The Law Commission will carry out a review to explore how to make current legislation more effective and consider if there should be additional "protected characteristics" to cover offences motivated by, or demonstrating, hatred based on sex and gender characteristics, or hatred of older people.
In another step outlined in the blueprint, taxi drivers and door staff will be given guidance on spotting hate crime.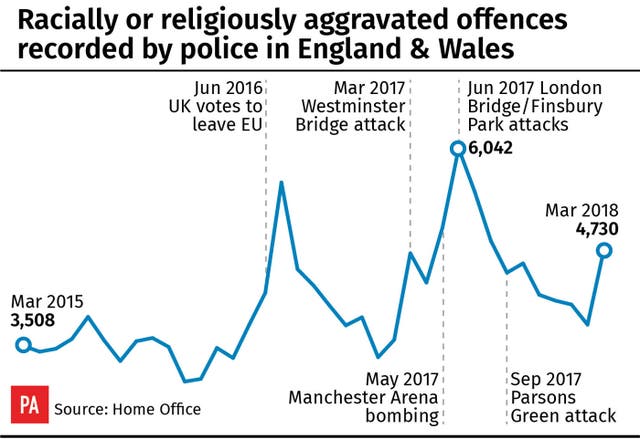 Alex Mayes, of charity Victim Support, said: "It's startling to see the number of hate crimes reported more than double in the last five years, although this rise does reflect a greater awareness around hate crime and an improved police response.
"Despite these rises, hate crime remains hugely under-reported."
Minister for Countering Extremism, Baroness Williams, said: "It is encouraging that the independent Crime Survey for England and Wales shows a 40% fall in hate crime over the last decade.
"But my message to people and communities affected by hate crime is that we stand in solidarity with you, and police recording of crime clearly shows that Government and police forces must not be complacent in rooting these crimes out."