There have been calls for retail tycoon Sir Philip Green to be stripped of his knighthood after he was named in Parliament as the businessman at the centre of #MeToo allegations of sexual harassment and racial abuse.
Former Cabinet minister Lord Hain used the protection of parliamentary privilege to identify the Arcadia chairman as the individual behind a legal injunction preventing The Daily Telegraph from publishing "confidential information" from five employees.
But there were calls for the Honours Forfeiture Committee to consider withdrawing his knighthood – previously challenged in the furore over shortfalls in the BHS pension scheme.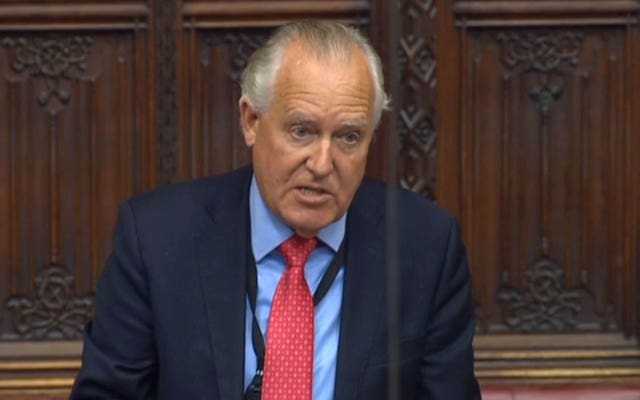 "Parliament and the country have made their views clear on this matter. Ultimately it's a decision for the Honours Forfeiture Committee."
Liberal Democrat leader Sir Vince Cable said Sir Philip "narrowly and luckily escaped losing his knighthood over the pensions scandal".
And he added: "If these allegations are correct, he should certainly be stripped of his knighthood."
Mr Field said he would push for the creation of a new procedure allowing MPs to raise abuse cases in Parliament.
"I am seeking to raise urgently with the Government the importance of having a mechanism in Parliament through which the voices of victims of abuse can be heard," said the Birkenhead MP.
"This would develop the role of the House of Commons in a way which stands up for people who have little money, against those who have much."
Lord Hain said he had received "overwhelming support – particularly from women" after making his shock statement to the House of Lords.
The former work and pensions secretary told peers he had been contacted by someone "intimately involved" in a case of a wealthy businessman using non-disclosure agreements and payments "to conceal the truth about serious and repeated sexual harassment, racist abuse and bullying".
He said: "I feel it's my duty under parliamentary privilege to name Philip Green as the individual in question given that the media have been subject to an injunction preventing publication of the full details of a story which is clearly in the public interest."
Sir Philip responded in a statement, saying: "I am not commenting on anything that has happened in court or was said in Parliament today.
"To the extent that it is suggested that I have been guilty of unlawful sexual or racist behaviour, I categorically and wholly deny these allegations.
"Arcadia and I take accusations and grievances from employees very seriously and in the event that one is raised, it is thoroughly investigated.
"Arcadia employs more than 20,000 people and in common with many large businesses sometimes receives formal complaints from employees. In some cases these are settled with the agreement of all parties and their legal advisers. These settlements are confidential so I cannot comment further on them."
The principle of parliamentary privilege means that MPs and peers cannot be sued for libel for comments made in the Houses of Parliament, and offers protection to media outlets reporting those comments.
Lord Hain explained his decision to speak out, telling BBC Two's Newsnight: "What concerned me about this case was wealth, and power that comes with it, and abuse. And that was what led me to act in the way that I did.
"It's for others to judge whether I've been right or wrong. But there's no point in being in Westminster … if you never deploy the precious rights of parliamentary privilege."
Prime Minister Theresa May's spokesman declined to comment on Lord Hain's statement and said that the exercise of parliamentary privilege was "a matter for individual members."
Labour equalities spokeswoman Dawn Butler said: "While much of the focus in the coming days will be on this man and his alleged actions, let us also pay tribute to survivors of sexual abuse and harassment, who are too often silenced and cannot command an army of lawyers to fight their corner.
"NDAs should never be used to suppress allegations of criminal behaviour. If the current law doesn't protect the voices of survivors, the next Labour government will legislate to do so."
Conservative deputy chairman James Cleverly said Lord Hain's action had shown "people must now realise that injunctions and super-injunctions are nothing more than a good way to part with large sums of money and a bad way to keep things secret".
Asked about Lord Hain's action, the new chairman of the Committee on Standards in Public Life, former MI5 chief Lord Evans, told BBC Radio 4's Today programme: "I can understand why Lord Hain has done that.
"I don't know, and I think, nor does he, the full background. Generally speaking the courts take decisions for good reason, so, I would be cautious at challenging them on that. Particularly when we haven't seen the full details that they have seen.
"But, equally, there are a balance of public goods here and the ability to raise issues in Parliament without fear of them being brought into the court, I think is an important safeguard in our system."