A man has been remanded in custody after he appeared in a Dublin court in relation to the murders of two Ulster Defence Regiment (UDR) soldiers.
John Downey was detained by Irish gardai on Monday evening under a European Arrest Warrant as part of a joint operation with the Police Service of Northern Ireland (PSNI).
Downey, 66, appeared before the High Court in Dublin on Tuesday as Northern Ireland prosecutors seek to extradite him to face charges of murder.
Detective Sargent Jim Kirwin of the Garda Extradition Unit told the court that he was on duty in Donegal when he spoke to Downey at a house in Ards, Creeslough, on Monday.
The garda officer asked Downey his name and told him that he was the subject of a European Arrest Warrant.
Downey responded that it was the "DUP (Democratic Unionist Party) and not the DPP (Director of Public Prosecutions)" who was pursuing the matter. He was arrested at 7.20pm.
The officer told the court that the warrant related to three offences including a bomb in Co Fermanagh in 1972 which killed the two UDR members.
The officer confirmed that Downey's passport has been surrendered to gardai and when asked by a prosecution barrister if he co-operated with police, the detective replied: "Fully, Judge."
Defence barrister Garnet Orange confirmed that Downey is contesting the application and is "anxious to get bail".
He added that his client suffers from a medical condition and has a heart monitor fitted. He asked the judge to consider an early date for a bail application.
Ms Justice Aileen Donnelly said she was satisfied that Downey is the person to whom the warrant related.
He was remanded in custody and will appear at the Criminal Courts of Justice on Thursday for a bail application hearing.
The extradition hearing will take place on Friday, November 23.
Justice Donnelly told Downey that he has the right to consent to surrender to the order and has a right to obtain professional legal services.
Prosecutors in Northern Ireland have decided there is sufficient evidence to prosecute him for the murders of Lance Corporal Alfred Johnston, 32, a father-of-four, and Private James Eames, 33, a father-of-three, in Co Fermanagh.
They died when an IRA bomb exploded in a car they were checking on the Irvinestown Road, Cherrymount, Enniskillen on August 25, 1972.
In 2013, Downey was charged with murdering four Royal Household Cavalrymen in a bomb in London's Hyde Park in 1982.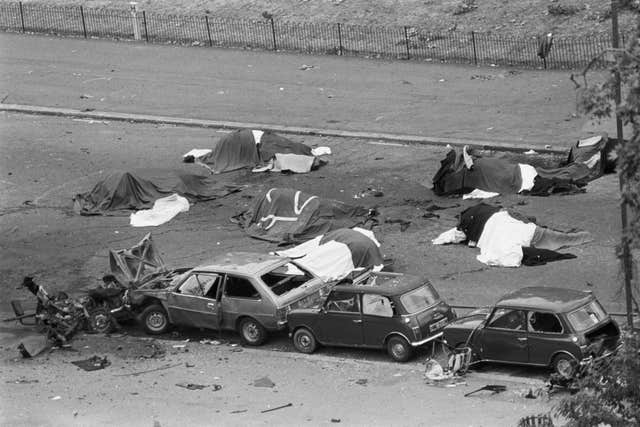 The letter was issued under the terms of the controversial On The Runs (OTRs) scheme.
Trial judge Mr Justice Sweeney ruled that Downey's arrest at Gatwick Airport, as he transited the UK on the way to a holiday, represented an abuse of process and he put a stay on any future prosecution in relation to the Hyde Park case.
The episode sparked a government inquiry into the OTR scheme.
Mr Downey has always denied any involvement in the Hyde Park attack.
A number of supporters including three Sinn Fein TDs, Pearse Doherty, Sean Crowe and Dessie Ellis, were also in court for Tuesday's proceedings.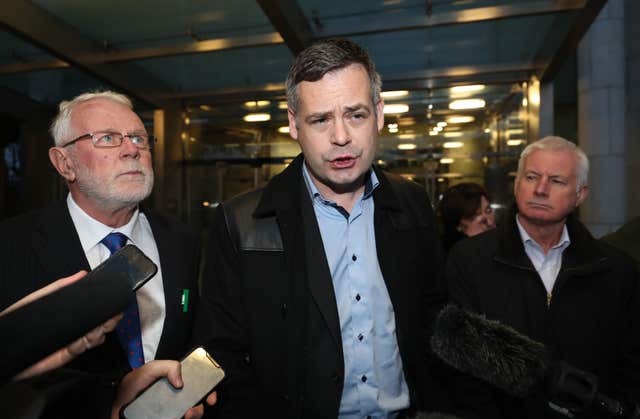 "I think everybody is entitled to justice and I deeply regret any suffering and loss that has happened because of the conflict but that doesn't take away from the fact that John Downey has been arrested on the first occasion despite having assurances that he was not wanted for questioning in relation to any incident.
"That arrest took place after a long protected period of time.
"It is deeply concerning that John has been arrested. It won't be lost on anybody that this has happened at a time when the British Government and authorities are looking for a blanket amnesty for their own soldiers given the spotlight is on them for their activities in the north."
Sinn Fein MLA Gerry Kelly has said that Downey's arrest was an act of "gross bad faith".
"John Downey has been a supporter of the peace process over many years and to pursue his arrest and extradition now is vindictive and bad faith.
"It gives lie to claims by British Prime Minister Theresa May that the legacy process is skewed against former state forces.
"This false assertion is motivated only by a desire to secure immunity and impunity for British state forces guilty of crimes in Ireland."
Mr Kelly has previously defended his role in the On The Runs scheme, after his name appeared on most of the letters as a conduit for Sinn Fein.