More than 50 MPs have written to US Secretary of State Mike Pompeo urging him not to permit Tommy Robinson to enter America for a fundraising tour.
The cross-party group voiced "grave concern" at reports that the US authorities might grant Mr Robinson – real name Stephen Yaxley-Lennon – a waiver on his current ban on entering the country.
They warned that the English Defence League founder would use any visit to "promote his violent and extremist agenda" and was expected to raise around 1.4 million US dollars (£1.1 million) through speaking appearances.
Robinson has gained a high profile in the US after right-wing websites took up his cause when he was jailed for 13 months for contempt of court. The sentence was later quashed and the case has been referred to the Attorney General.
Labour MP Ruth Smeeth, former director of anti-racism campaign group Hope not Hate, co-ordinated the letter with her former colleagues
She said: "Many colleagues are concerned, given the impact he has had on lots of our communities. The idea he would get a cash injection from this trip and use that to undermine community cohesion in the UK is unacceptable."
Labour MPs make up the bulk of the letter's 55 signatories, including frontbenchers Valerie Vaz and Gloria de Piero as well as former Home Office ministers Vernon Coaker and George Howarth. But they were joined by MPs from other parties, including Conservative Michael Fabricant, Liberal Democrat frontbenchers Tom Brake and Wera Hobhouse, and the SNP's Martyn Day.
They warned Mr Pompeo that any event in the US involving Mr Robinson might feature demonstrations organised by him of a kind which have previously resulted in "outbreaks of violence" in the UK.
Mr Brake said: "It could not be clearer that Stephen Yaxley-Lennon's vitriolic hatred of Muslims amounts to fascism, and his disgusting agenda has no place on any platform, let alone on a speaking tour where he's expected to earn millions.
"Mike Pompeo must act accordingly and prevent him from illegally obtaining a visa for this tour. Any action less than this shows that, in reality, the Trump Administration is more than happy to allow Mr Yaxley-Lennon's violent agenda."
Mr Robinson did not respond to requests for comment.
He is currently barred from the US after attempting to enter the country using a friend's passport in 2012, having been blocked from travelling under standard arrangements because of "multiple criminal convictions, including several for violent conduct and assault as well as mortgage fraud".
Any money raised by a US visit could be expected to be used to "organise further disruptive demonstrations in communities across the UK", said the MPs.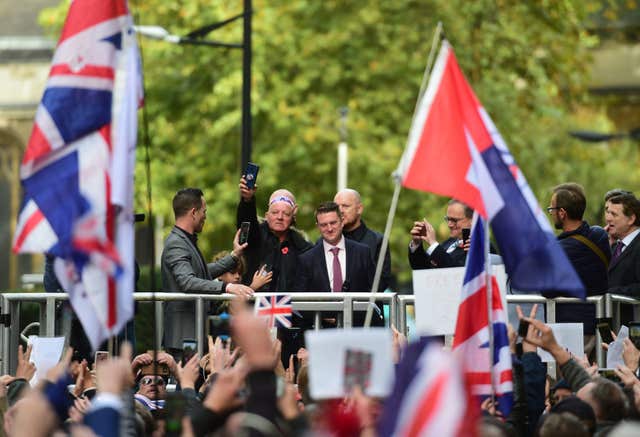 "Clearly the gravity of his criminal serious record, his brazen violation of US immigration law and the threat he poses to the American public will ensure that he isn't granted admission to the US."
The MPs asked Mr Pompeo to issue an assurance that the US will not grant a waiver to allow Mr Robinson to accept invitations to speak in Washington DC on November 14.