It was, Jacob Rees-Mogg assured us, not a coup, but it was very much a direct challenge to Theresa May's authority.
The leader of the European Research Group (ERG) gathered his troops in Committee Room 10, deep within the Palace of Westminster.
The waiting crowd of reporters outside the private meeting grew larger, security officers were deployed to ensure the public could attend other meetings in the committee rooms.
From the other side of the door to Room 10, enthusiastic banging of tables could be heard within.
But not all members of the ERG agreed – Sir Edward Leigh departed from the meeting saying there was a "genuine difference of opinion" about whether to support the Prime Minister's position.
He would not be submitting a letter to the powerful backbench 1922 Committee calling for a no-confidence vote.
Former foreign secretary Boris Johnson also walked out, showing a surprising turn of speed as he was pursued down the ornate staircase leading down from the Committee Corridor.
He remained tight-lipped, refusing to answer questions about whether he would be writing his own letter to 1922 Committee chairman Sir Graham Brady.
And then Mr Rees-Mogg appeared and began to head to the cameras, reporters and photographers assembled outside Parliament.
But with dozens of journalists already inside the Palace of Westminster, an ungainly rolling maul developed as Mr Rees-Mogg gave a briefing on the move.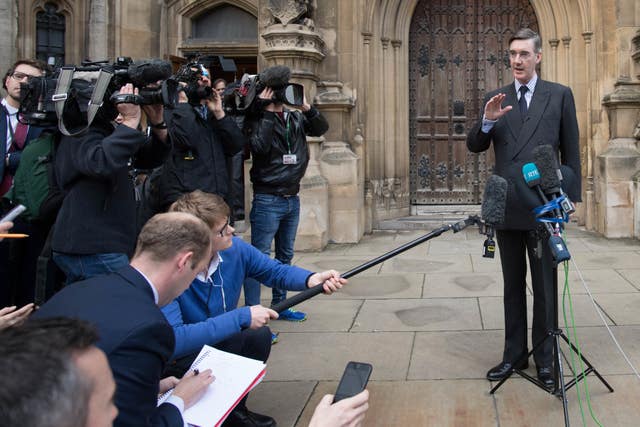 As a door approached, Mr Rees-Mogg quipped, "we're getting into a bit of a bottleneck, like the negotiations".
Eventually, after passing through Central Lobby at the heart of the Palace of Westminster and along the statue-lined St Stephen's Hall, Mr Rees-Mogg emerged to face the cameras.
"I am not offering my name as leader," he said.
"This is nothing to do with the ambition of Brexiteers. It is everything to do with the ambition of Brexit for this country."
But he had to contend with the amplified shouts of anti-Brexit protesters who have maintained a constant presence at Westminster since the 2016 referendum.
"The ERG is finished and so are you Mr Rees-Mogg," one cried through a megaphone.
Mr Rees-Mogg said: "We are a democracy, and that's why these splendid people can shout away because we believe in the right of free protest."
But he added that the "nobility of our democracy" was that people were prepared to accept the results of the referendum even though they did not like it.
"What we have voted for should be implemented and the Prime Minister is not doing that. That's why I have no confidence."
But one Tory minister who witnessed Mr Rees-Mogg's performance was unimpressed.
"Bloody idiot", the Remain-voting minister grumbled as they walked by.