The pound has plummeted after shock ministerial resignations dealt a blow to Theresa's May's Brexit deal, and is set to remain under pressure as Cabinet support proves short-lived.
Sterling fell sharply against most major currencies after Brexit Secretary Dominic Raab quit, followed shortly after by Work and Pensions Secretary Esther McVey.
The pound tumbled 1.8% to just under 1.28 US dollars and dropped 1.8% to under 1.13 euro.
It comes after a volatile week for the pound as it has been buffeted by developments on the Government's Brexit deal.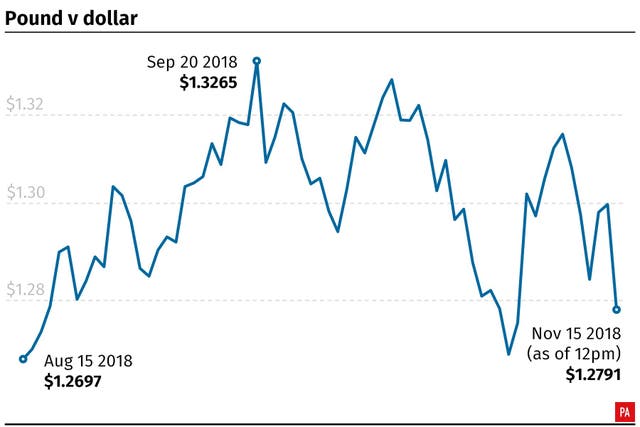 James Hughes, chief market analyst at Axi Trader, said: "Sterling previously moved on clarity rather than positive and negative headlines.
"This has now changed and it seems sterling is now a barometer of the PM's ability to hold on to her job."
He added: "If the discontent and resignations continue then the pound will remain under pressure."
David Cheetham, chief market analyst at online trading group XTB, said the currency reaction was "reminiscent of the Chequers deal in the summer where initial support from the Cabinet has proved short-lived for Theresa May".
While the pound suffered steep falls, the FTSE 100 Index narrowly held on to gains as it was given a lift by global firms, such as miners, as well as defensive stocks, including oil giant BP.
The blue chip share index edged 4.22 points higher to close at 7038.01.
But the UK-focused FTSE 250 shed 247.93 points to close at 18,662.21.