A couple say they have their dog's picky eating habits to thank for helping them win £1 million on a National Lottery scratchcard.
Patrick Morling had made a special trip to the supermarket to buy their pet's favourite meal when he decided on a whim to buy the winning Monopoly Classic card.
Now the 60-year-old and his wife, Paula, 54, from Havant, Hampshire, are planning around-the-world holidays to celebrate.
And Ollie, a nine-year-old springer-staffy cross, is set to get a new bed as a thank you.
Mr Morley, a storeman for a paper cup company, said: "We'd already done our big shop earlier in the day but Ollie is very particular about his food so I had to go to a different store to stock up for him.
"As I was leaving, I decided on a whim to buy a scratchcard.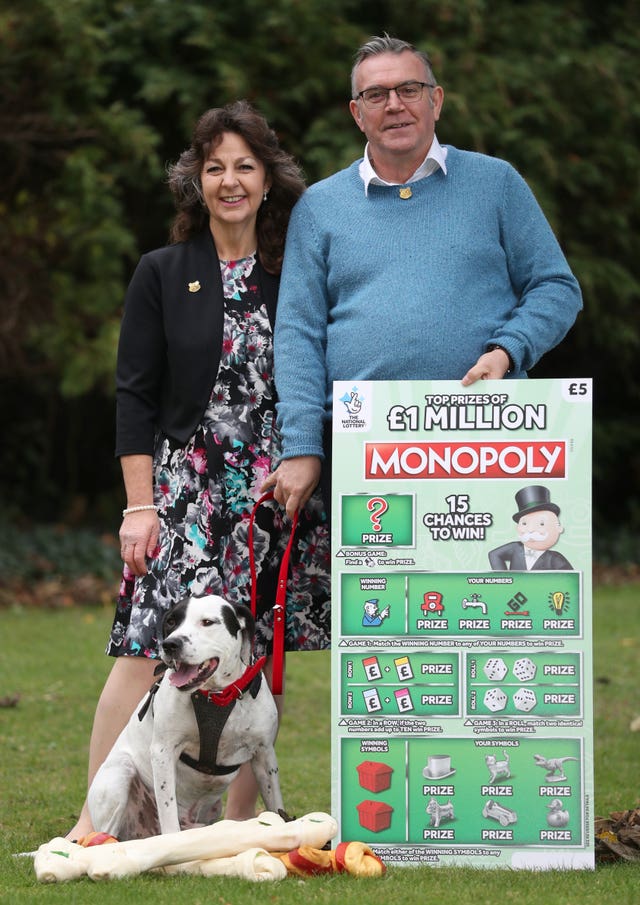 "When I'd finished playing I got back in the queue and waited my turn before I handed it over to the sales assistant and asked her to verify it was actually a £1 Million winning scratchcard.
"Let me tell you, it created quite a disturbance in the store and I thoroughly enjoyed the hugs and pats on the back I received from the other shoppers who I think were in more shock than me."
Describing how they planned to spend their winnings, Mr Morling said that they intended to buy their dream home and had offered to pay for their youngest daughter's wedding and the deposit for their other daughter's house.
He added: "We have always wanted to go to New Zealand and had promised ourselves this trip for our 30th wedding anniversary earlier this year, but finances just wouldn't allow it.
"Looks like instead we can do that trip for our 31st.
"Paula has family in Canada she has never met so that may be another trip, or perhaps we'll save the back and forth and just go around the world instead.
"It really is magic. Who would have thought that a trip to buy Ollie's dog food would have resulted in us chatting about paying for weddings, round the world trips and buying dream homes."
And as for Ollie, Mrs Morling, a school lunchtime supervisor, said: "He will get lots of special treats and we may buy him a nice little bed."
Mr Morling added: "I might treat him to a new Bonio. He will live his lifestyle like we have lived ours but he's never been a spoilt dog."