Theresa May claimed her weekend shopping list is longer than Jeremy Corbyn's Brexit plan, as she faced accusations that she is leading the "most shambolic Government in living memory".
The Prime Minister attempted to dismiss claims the UK will be poorer after Brexit, and said Labour is preparing a "betrayal of the many by the few" by moving towards support for a second referendum.
But Mrs May faced fierce criticism of her Brexit plan at Prime Minister's Questions, with Mr Corbyn rubbishing her belief it is the "best deal available" before demanding that MPs receive "warts and all" legal advice so they can make an informed decision.
The Labour leader then warned about the lack of support in the Commons for the deal and urged the Government to stand aside.
The fiery exchanges emerged after both leaders paid tribute to Conservative peer and former Bletchley Park code-breaker Baroness Trumpington, and social justice activist and RAF veteran Harry Leslie Smith.
Speaking at PMQs, Mrs May said: "Our deal is the best deal available for jobs and our economy, that allows us to honour the referendum and realise the opportunities of Brexit.
"This analysis does not show that we will be poorer in the future than we are today, no it doesn't, it shows we will be better off with this deal."
Instead, she claimed, Mr Corbyn and shadow chancellor John McDonnell were the "biggest risk to our economy".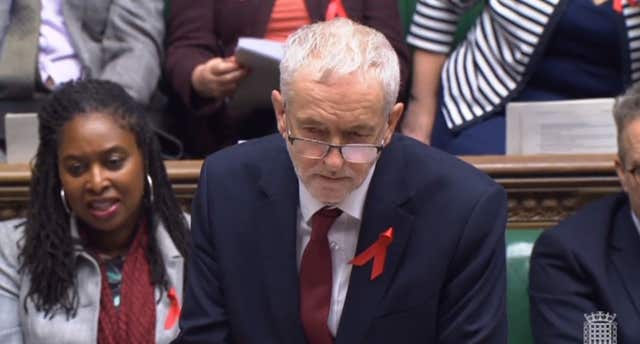 He continued: "The Government's economic forecasts published today are actually meaningless because there's no actual deal to model, just a 26-page wish-list."
Mrs May shot back: "What does Labour have to offer? Six bullet points – my weekend shopping list is longer than that."
Mr Corbyn later questioned Mrs May's trade pledges, saying: "She's gone from guaranteeing friction-less trade to offering friction and less trade."
He also highlighted how Mrs May had previously pushed for legal advice linked to the Iraq War to be published, as he pressed for full disclosure over Brexit.
Mrs May replied: "The advice any client receives from their lawyer is privileged – that's the same for Government as it is for any member of the public."
Mr Corbyn pushed again on Brexit, adding: "MPs need to see that advice, warts and all, so they can make their informed decision on this matter.
"The Prime Minister insists her Government will be able to negotiate every aspect of the UK's future trade relationship within the space of two years.
"We've had two-and-a-half years since the referendum – so far 20 of her own ministers have resigned. This is the most shambolic Government in living memory.
"She is now asking Parliament to vote on the basis of a 26-page wish-list without even seeing the full legal advice. It's now clear that Parliament will not back this plan.
"So, isn't it time for her to accept that reality and make way for an alternative plan that can work for the whole country?"
Mrs May replied: "I will take no lectures from (Mr Corbyn), who has seen 100 resignations from his frontbench.
"But I will also say this – today we saw what really lies behind Labour's approach.
"Last night, the shadow chancellor told an audience in London that he wanted to seize upon a second referendum and vote Remain.
"So now we have it – they want to cause chaos, frustrate Brexit, overturn the will of the British people, and that would be a betrayal of the many by the few."
Tory Brexiteer Anne-Marie Trevelyan later called on Mrs May to use the £39 billion EU divorce bill to pay for a "clean global Brexit".
The Berwick-upon-Tweed MP said: "It's a fact of any divorce proceedings that if the parties cannot reach a fair and equitable agreement they go to a judge to ask for a decision. In the case of the divorce between the UK and the EU, this Parliament must be the judge.
"Does the Prime Minister agree with me that once this Parliament has rejected the EU's controlling and dominating proposal, which won't leave us free to decide our future, that the UK will be better off actually spending the money we set aside to prepare for a clean global Brexit?"