Philip Hammond has told MPs it is "simply a delusion" to think a better Brexit deal can be renegotiated at the 11th hour after warning a no-deal is "too awful to contemplate".
The Chancellor faced dissent from Tory backbenchers as he warned a no-deal would see the end of frictionless trade, restrictions on EU travelling rights and large tariffs for UK exporters.
Vocal Brexiteer Nadine Dorries said the warnings were an extension of "project fear" but Mr Hammond received backing for his view from the shadow chancellor John McDonnell who said Labour "would not countenance" a no-deal scenario and pledged the party would "work assiduously to avoid it".
Opening the third day of debate on the deal, Mr Hammond said: "I have observed this process at close quarters for two-and-a-half years and I'm absolutely clear about one thing, this deal is the best deal to exit the EU that is available or that is going to be available.
"The idea that there's an option of renegotiating at the 11th hour is simply a delusion.
"We need to be honest with ourselves, the alternatives to this deal are no deal or no Brexit.
"Either will leave us a fractured society and a divided nation."
"Only that compromise can bring us back together after Brexit is delivered, and we should remember the lesson of history, that divided nations are not successful nations," he added.
The Chancellor went on to outline the "too awful to contemplate" no-deal consequences.
He said: "I've heard that we have nothing to fear from no-deal: nothing except a cliff-edge Brexit in just four months' time, the end of frictionless trade with our biggest export market, restrictions on our citizens travelling in Europe, nothing except being the only developed economy in the world trading with the EU on purely WTO terms with no customs facilitation agreements, no data sharing and protection agreements, no approvals regime to allow our industries to trade with their nearest customers and suppliers."
Mr Hammond warned car exporters would face tariffs of 10%, clothing exporters would face 12% and agricultural exporters would face "even higher tariffs" than that.
He said: "The fact is our economic and trading relationship with the EU has been built over 45 years and during that time our economies have shaped themselves around each other and become inextricably intertwined, supply chains crisscross borders, work forces draw on talent from across the continent."
"While new trade partnerships with countries outside the EU undoubtedly offer new and exciting opportunities for UK companies, the analysis the Government published last week is clear that the benefits flowing from new FTAs would not compensate for the loss of EU trade from a no-deal exit", he added.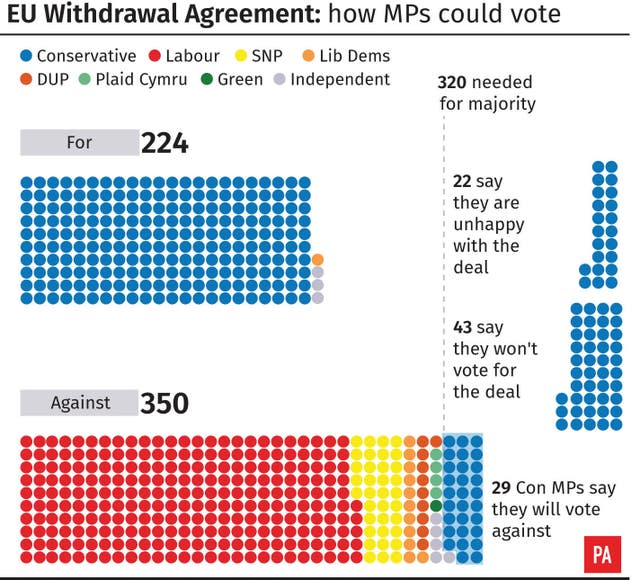 He said: "If a bad Brexit is forced upon our country and the jobs and economy are not protected, many of our people who have suffered from eight years of austerity will suffer even more.
"Indeed many of us believe it is the economic failures of the past and the present that helped deliver the Brexit vote."
He blamed a lack of investment in infrastructure and industry by the Tory government on the vote to leave the EU, adding: "Labour has set out our stall, we stand for change."
The SNP's trade spokesman Stewart Hosie later said there was "nothing certain" in Mrs May's agreement, he said: "In a sense we're not taking a decision on an agreement, we're taking a decision on a wish list in a political statement some or all of which may come to nought."
"Every single Brexit model is bad, investment is likely to fall, trade will almost certainly be reduced, barriers will be erected, people will be poorer and productivity will be stifled", he added.
As the debated neared its end, the DUP's Mr Paisley said: "It was Samuel Johnson who observed that nothing so concentrates the mind like a hanging.
"And as the gallows are being built next Tuesday for this Withdrawal Agreement, can the Secretary of State confirm if there are any discussions taking place about putting this motion off or about altering it in any way, or is the Government fixed on walking towards those gallows?"
Tory Cabinet minister Dr Fox replied: "The Government will continue to make the case for what it believes is a balanced and reasonable agreement, but of course the Government will want to talk to members, it will want to look to ways to give a reassurance to the House wherever we're able to do that."