Royal baby Archie had his grandfather smiling when the Prince of Wales was congratulated by well-wishers on the birth.
Charles was happy to chat about his grandson when he stopped to greet a group of tourists during his visit to a centuries-old monastic site in Ireland's Wicklow mountains.
The Duchess of Cornwall described the Duke and Duchess of Sussex's son as "still very little" during a visit to the Republic's oldest working mill in Avoca Village, Co Wicklow.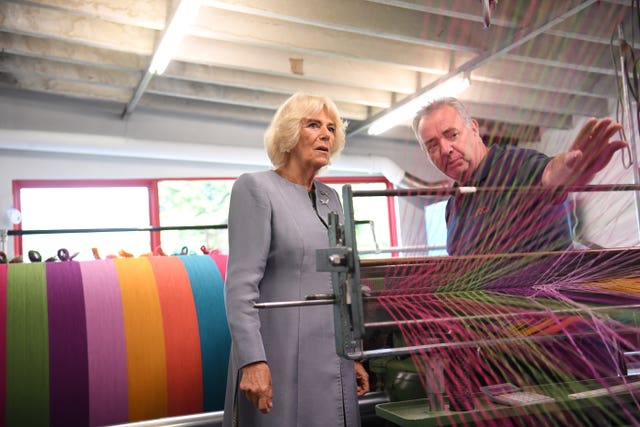 Charles stopped to speak to a group of American and Australian tourists who called out to him as he visited the Glendalough Monastic Site.
"Congratulations on the birth of your new baby grandson," said a woman who was visiting from Australia.
"Oh, you're very kind," a smiling Charles replied.
Camilla spoke about Harry and Meghan's baby when she met wellwisher Jo Wallace, who handed the duchess a bouquet of flowers at the mill.
Ms Wallace, who was with her own grandchildren, said: "Congratulations on your grandchild, the new one," as the pair shook hands.
The duchess replied: "Yes, the new one indeed, he's still very little."
Charles met a group of local children who were cataloguing moths caught overnight on the shores of the picturesque area's upper lake
Aaron Conway, 12, said: "He was saying about how he likes the environment and that it was really fascinating all the different moths we were identifying."
The prince was also taken with a mountain rescue dog called Rowan, a three-year-old collie cross, who was with his handler Sheelagh O'Malley, from Glen of Imaal Wicklow Mountain Rescue.
She said: "He seemed more interested in the dog, he's a real dog person – but he is a very cute dog, I have to say.
"He's got a massive work ethic, when I put on his mountain rescue jacket he knows it's time for work and when and take it off he relaxes."
Before leaving the area, Charles went on a brief walkabout and was surrounded by walkers who had gathered nearby when they realised he was visiting.