The cause of mass crab deaths on the north east coast may never be known, an environment minister has claimed amid calls for further investigation.
Mark Spencer told MPs that scientists are "ready to jump into action at great speed" to try to establish the facts if a repeat mass die-off of marine life occurs on the coastline from Hartlepool to Whitby.
Mr Spencer stressed he hopes a repeat does not happen but added "we may never find the cause" of the original incident between October and December 2021, which saw crustaceans washed ashore and dying creatures "twitching" and displaying lethargic behaviour.
Shadow environment minister Daniel Zeichner suggested the Government is trying to brush the issue "under the carpet".
Teesside is home to one of the Government-backed freeports – special economic zones offering tax breaks and lower tariffs. There have been calls for a halt to dredging for the new freeport pending a full analysis of the situation.
But an independent panel last week concluded it is "exceptionally unlikely" the deaths were caused by dredging to expand a port in Teesside.
Instead, the panel concluded it was "about as likely as not" that a pathogen new to UK waters – a potential disease or parasite – caused the crab deaths.
Mr Spencer, when asked by Labour MP Kevan Jones (North Durham) about the next steps, told the House of Commons: "It is about taking advice from those scientists and working with them so they can establish the facts of what has caused this disease.
"As much as the House and I want to find the actual cause of this die-off, we have to face the scientific fact that we may never know, if that event doesn't repeat itself, which I sincerely hope it doesn't, we may never find the cause of that event.
"But if it is repeated then those scientists are ready to jump into action at great speed to try and establish the facts."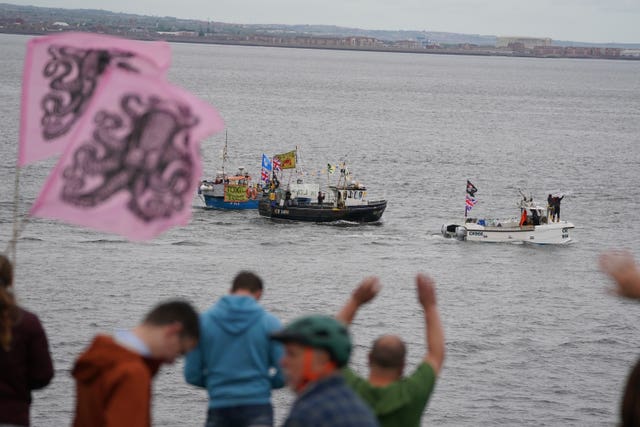 However, the new report also found this was "unlikely".
For Labour, Mr Zeichner said mass deaths of crustaceans are now "regular" in the area, adding: "Why is it that 15 months on they still don't know? Is it because we have a Conservative Government and a Conservative Tees Valley mayor who have been missing in action?
"Is it because they aren't interested in uncovering the reasons behind it and are more concerned with trying to brush this issue under the carpet?
"Or is it because their priority is protecting a narrow political agenda rather than the interests of the people of Teesside and North Yorkshire? Or is it all of the above?"
Mr Spencer replied: "I think that is absolutely outrageous, to be honest, to try and play politics with this disaster. And it is a disaster. There is a shared desire across this House to try and find out what caused this die-off. It has been catastrophic to that industry.
"We have had the best scientists in the world looking at that. We are blessed with some of the most expertise in the world in terms of aqua science looking at this.
"And unfortunately the way science works, is it is very difficult sometimes to identify exactly what is the cause. It is of course possible to rule out what it isn't. And that's what the expert panel has done.
"The independent panel concluded that pyridine or another toxic pollutant, as a cause, was very unlikely, as was any link to dredging in the freeport. Now they may want to play politics with that, but that does not do those fisherman in the North East any good."
Sir Bernard Jenkin, Conservative MP for Harwich and North Essex, expressed disappointment at many of the exchanges in the Commons before adding: "There's clearly a huge breakdown of trust about this.
"And may I just counsel (Mr Spencer) that he's got to recognise that Defra has lost that trust, certainly of local fishermen and local people, and he's just got to go back to the beginning and start again, get everybody into a quiet room and see if there can be an agreement about finding a way forward because this kind of argy-bargy, I know he's being provoked, will inspire no public confidence at all and that's what's lacking at the moment."
Labour MP Alex Cunningham (Stockton North) said: "As there is still no definitive cause, nothing can be ruled out and only a further in-depth, transparent scientific study will give our communities the answers they deserve."
Mr Spencer, in his reply, said: "His advice appears to me to be Tinkerbell politics, where we close our eyes and hope we can find the answer, that's not how it works."
Conservative MP Peter Gibson (Darlington) described crustacean die-off as "deeply concerning" and sought assurances about what more the minister considers "reasonable to do before we conclude that we simply do not know what single cause was responsible".
He also criticised "conspiracy theories and political" mud-slinging from Labour MPs.