The Church of England is "part of the problem" when it comes to the discrimination Gypsy, Traveller and Roma people face, the church's national education conference has heard.
Lord Boateng told the conference in Union Chapel, Highbury and Islington, north London, on Friday that Gypsy, Traveller and Roma people are England's "least-liked group".
The 71-year-old said that 44.6 per cent of people "hold negative views" against them.
"They are the least likely to enter higher education. They are the most underachieved of all groups of children within school, at every age within the school," he said.
"They have some of the lowest rates of attendance and the highest rates of permanent exclusion. You are even more likely to be excluded as a member of the Gypsy, Traveller, Roma community in school than you are if you are black."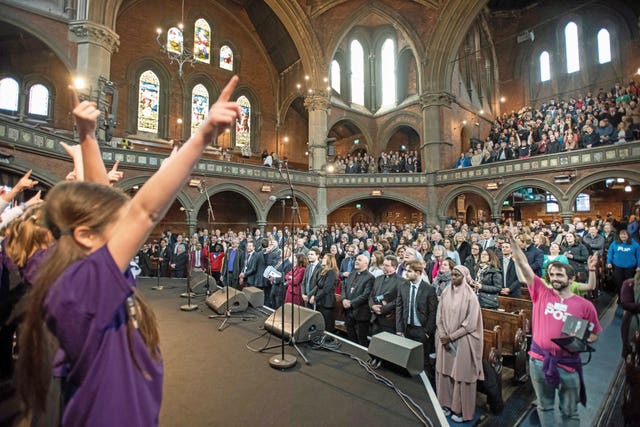 As chair of the Archbishop of York's Racial Justice Commission, Lord Boateng said he met and spoke with a group of Gypsies, Travellers and Roma just before Christmas last year.
Addressing the Archbishop Stephen Cottrell in the audience, he said the group told him that across the country, "the church was not part of the solution, it was part of the problem".
A spokesperson for the Church of England said: "The Church of England acknowledges that it has in the past failed to be responsive to the needs of different UK Minorities, including Gypsy, Roma and Traveller (GRT) communities, and at the heart of today's Education Conference was the launch of a new programme, Leaders Like Us, which seeks to double the number of UK Minority Ethnic leaders in all schools across England – one example of positive action being taken.
"In 2019, the General Synod passed a resolution condemning racism and hate crime directed against Gypsy, Roma and Traveller communities, seeking more traveller sites, and urging dioceses to establish a chaplain to the GRT communities.
"There are now at least twelve such chaplains whose work includes pastoral, advocacy and educational activity and we are working to ensure that there are more such chaplains and will continue to report on progress to the Archbishops' Commission for Racial Justice, Chaired by Lord Boateng."
According to Roma Support Group, a 2019 Pew Research study found 23 per cent of people in the UK hold "unfavourable" views on Roma.
The European Union Agency for Fundamental Rights has also found that 80 per cent of Roma live below the poverty line and, according to data obtained in 2019, only 18 per cent of Roma children progress to higher levels of education.
He said: "We remember the day when brave liberating soldiers went into Auschwitz and found what racism does in the end – killing people, millions and millions of people, killed for no other reason than that they were different. A different race, a different colour, a different ethnicity, a different politics, a different sexuality. That's what hatred and bigotry always does in the end.
"Today is International Holocaust Day and we need to remember that and we need to remember it not just as a piece of history but as part and parcel of our present – what's happening now.
"There is racism now in our world, in our country, in our schools, in our communities.
"Jewish people are attacked now on the way to school. They are attacked in universities. That's happening now.
"Black people, people of colour, now, are subject to hatred and hateful remarks, now are less likely to do well at school not because of any fault of their own but because of racism and racial disadvantage."
He told the conference that Gypsy, Traveller and Roma people lost the second largest number of lives during the Holocaust, after Jewish people.
The Roma Support Group said that the pre-Second World War European Roma population is estimated to have been up to 1.5 million but under the Nazi occupation it is believed that up to 500,000 were murdered.
Lord Boateng added that "partnerships" need to be created in schools and communities to address issues of racism.
"There are things we can do. We can look at our curriculum and see how do we teach history, how do we teach the holocaust," he said.
He also referenced the Church of England's "Leaders Like Us" programme which aims to enable aspiring senior leaders from UK minority ethnic and global majority heritage backgrounds throughout the country progress to headship.
The programme is open to teachers in all English schools, not just Church of England schools, according to its website.