Peers have been urged to reject a Government Bill which proposes a form of amnesty for Troubles offences as they prepared to debate it in the Lords.
Men and women whose loved ones were murdered by terrorists in Northern Ireland unveiled banners outside Westminster expressing opposition to the Legacy Bill.
The banners read: "No amnesty, the rule of law must prevail".
The Northern Ireland Troubles (Legacy and Reconciliation) Bill would provide immunity for people accused of Troubles offences, as long as they co-operate with a new truth recovery body, and would also halt future civil cases and inquests linked to killings during the conflict.
It is continuing through its parliamentary stages at Westminster despite widespread opposition from parties across the political divide in Northern Ireland, as well as all victims' groups.
Alan Irwin from Co Fermanagh said there is no reconciliation in the Bill, despite the title.
His father and uncle, who were part-time members of the Ulster Defence Regiment (UDR), were killed by the IRA.
"What we have now is an affront to democracy, an affront to justice, we have a Government who is not going to stand up for fatherless and the widows, which affects not just Northern Ireland but these isles as a whole," he told the PA news agency.
"It's wrong to give an amnesty to those who committed murder, to let them off with it."
Aileen Quinton, whose mother was killed in the Enniskillen bombing, said the chance of justice should not be cut off.
"My mother's murder shouldn't be anybody's free go," she said.
"Everyone's life should have mattered, my mother's life should have mattered, and it still matters to me. Everyone should be held accountable for what they did, and that is seeking justice, not seeking revenge."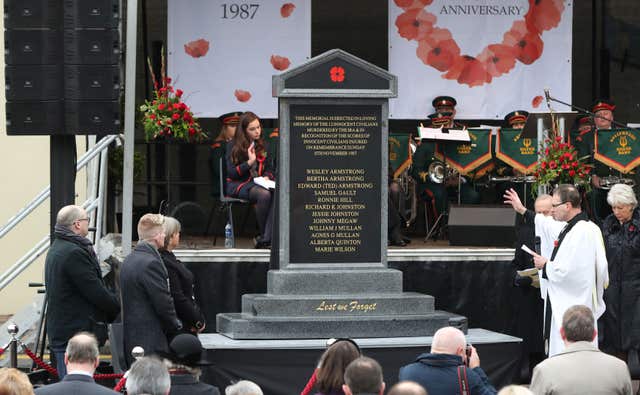 These included her father, a member of the UDR, who died after being shot in the back close to their family home in January 1980.
She said if someone commits a crime they should pay for it.
Ms Jordan wore her relatives' medals in their memory as she took part in the demonstration.
"If you make a choice in life, there is a consequence to that choice, and you have to be able to take whatever comes," she said.
"But there never seems to be anything done to bring these people to justice which I think is totally wrong," she said.
Pam Morrison from Co Fermanagh lost three brothers in separate IRA attacks.
She said the hardest part for her is that decades later, no-one has been brought to justice for the murder of her family members.
"They seem to be let go free, which is wrong – if you commit a crime you should do the time, no matter who you are," she said.
"I'm the last of my generation and it had very big impact on the rest of my family that was left. It's a completely different life, you have to learn to live a life again without them.
"They were out doing their duty and got their lives taken from them, which is wrong.
"My brothers were all very young, they never got the chance to grow old, to see their families grow up. I don't see any justice coming for them."
They also spoke about the pain of so many anniversaries.
Ms Jordan said: "I had six family members murdered, that's quite a lot out of one family, between the two of us, we have 10.
"That's six anniversaries throughout the year you have to remember, you're only getting over one when the next one comes, it's an ongoing process, you never seem to get out of it."
Ms Morrison said she has an anniversary on Wednesday for her third brother.
"There is never a month that passes that you don't have anniversaries," she said.
An NIO spokesperson said: "The UK Government is determined to deliver better outcomes for those most affected by the Troubles, while helping society to look forward.
"The Northern Ireland Troubles (Legacy & Reconciliation) Bill will establish an Independent Commission for Reconciliation and Information Recovery (ICRIR) to conduct reviews into Troubles-related deaths and serious injury, with the primary objective of providing information to families, and victims and survivors. The Commission will have all the necessary powers to conduct criminal investigations as part of any review, ensuring compliance with the Government's international obligations under the ECHR.
"The Government has tabled a number of amendments during committee stage in the House of Lords that seek to address a number of key issues raised by stakeholders. We will continue to engage constructively with all interested parties, and to carefully consider how their concerns might be addressed as the Bill proceeds through Parliament."