The Princess of Wales has released a new video in which she chats to schoolchildren about teddies, ice-cream and having both good and sad feelings.
Kate introduced the youngsters at St John's CE Primary School in Bethnal Green, east London, to her Shaping Us campaign, which aims to raise awareness about the importance of early childhood on later life.
Sitting in a classroom with the six reception-age pupils, Kate talks to them about how having support from friends and family can make people feel better.
One girl tells the princess: "I like my friend Miley. When I cry, she gets a tissue and wipes my tears."
Kate replies: "That is the kind of friend… we all have feelings don't we? Good feelings and sad feelings.
"But if we've got our friends around us and our family, it makes us feel better, doesn't it? Does it make you feel better when you talk about your feelings?"
The princess, dressed in a forest green bow blouse and belted black trousers, asks the children about the teddies they are holding.
"Good afternoon. Thank you very much for having me at your school, and who are these teddies you've brought with you?" she says, pointing at the toys.
One of the children replies "Barnaby bear", while another holds aloft a fluffy white unicorn.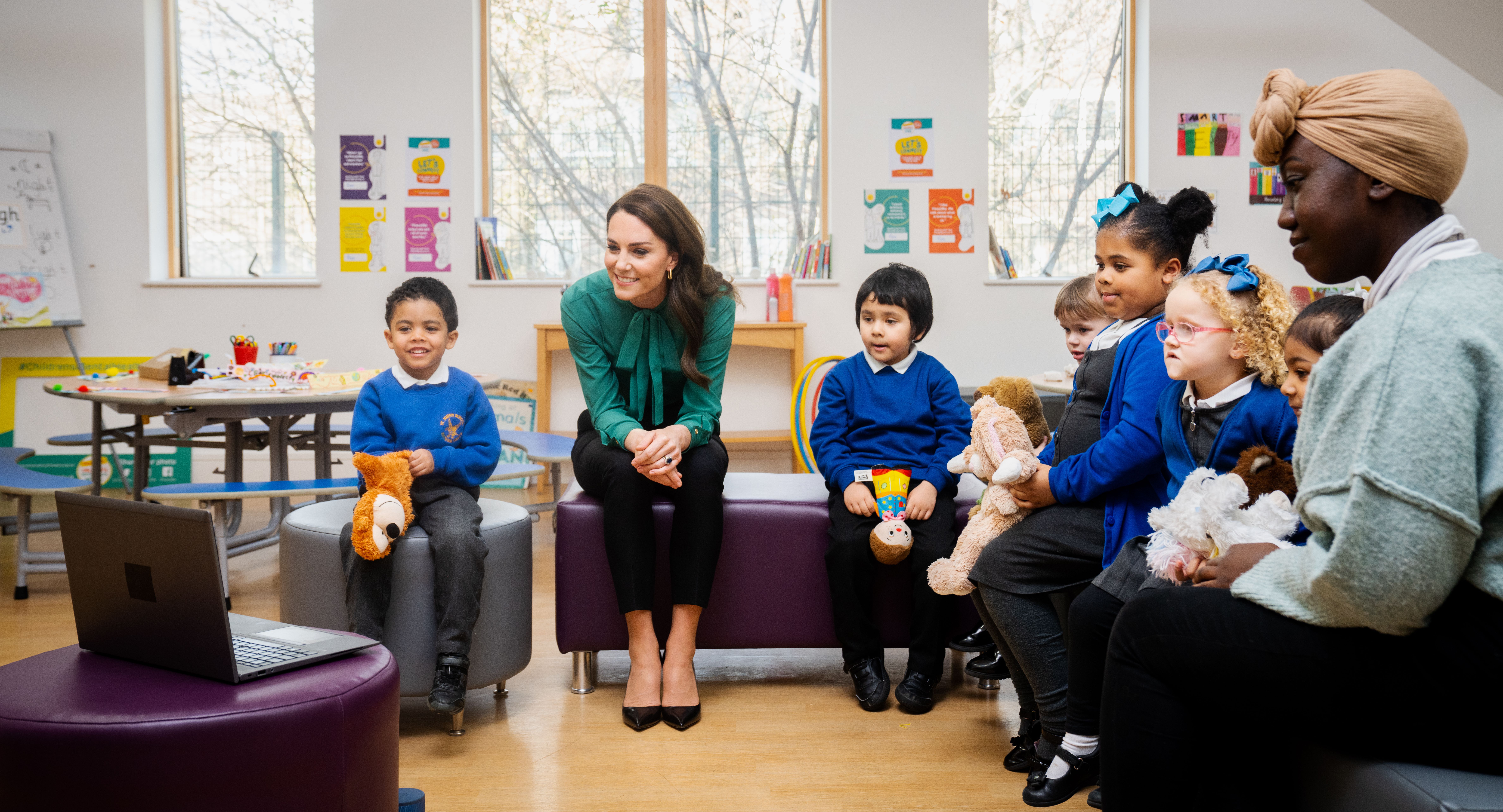 The princess tells the four and five-year-olds she has brought a film instead, and plays them The Royal Foundation Centre for Early Childhood short claymation about the early life of a character called Layla.
Referring to a scene in which Layla drops an ice-cream, Kate, who is holding a Mr Tumble plush toy belonging to one of the children, asks: "Have any of you dropped on ice cream before like that? Have you? I have done too."
One boy recounts how he also dropped his ice-cream but was given another one, with a smiling Kate remarking: "Oh did you? You lucky… ah delicious."
"Who's been kind to you recently? Who here gets big cuddles?" she asks, with the children putting up their hands.
The princess says the animation shows "how important it is to look after you, give you love, give you kindness, so you can be the best you can be."
The boy sitting next to Kate nods enthusiastically as she speaks.
Kate also chats to another boy about his Spider-Man birthday cake, patting his back and giving him a big smile as he tells her he loves the super hero.
One girl thanks Kate for visiting, saying: "Thank you for being here."
The princess replies, before giving the children high-fives: "Well thank you for letting me be here and for inviting me here."