The boss of a trade union whose train driver members walked out on Friday in a row over pay and conditions said he was delayed by "bloody rail strikes".
Aslef general secretary Mick Whelan made the quip to the PA news agency as he arrived at a picket line outside London Euston station later than planned.
Friday's strike by train driver members of Aslef and the Rail, Maritime and Transport union (RMT) left large parts of the country with no services all day, as operators such as Avanti West Coast, CrossCountry, Northern and Southern are not running any trains.
"If you haven't had a pay rise for four years, do you wait five? Do you wait six or seven?"
Mr Whelan said Aslef members "don't want to go back until we get a resolution".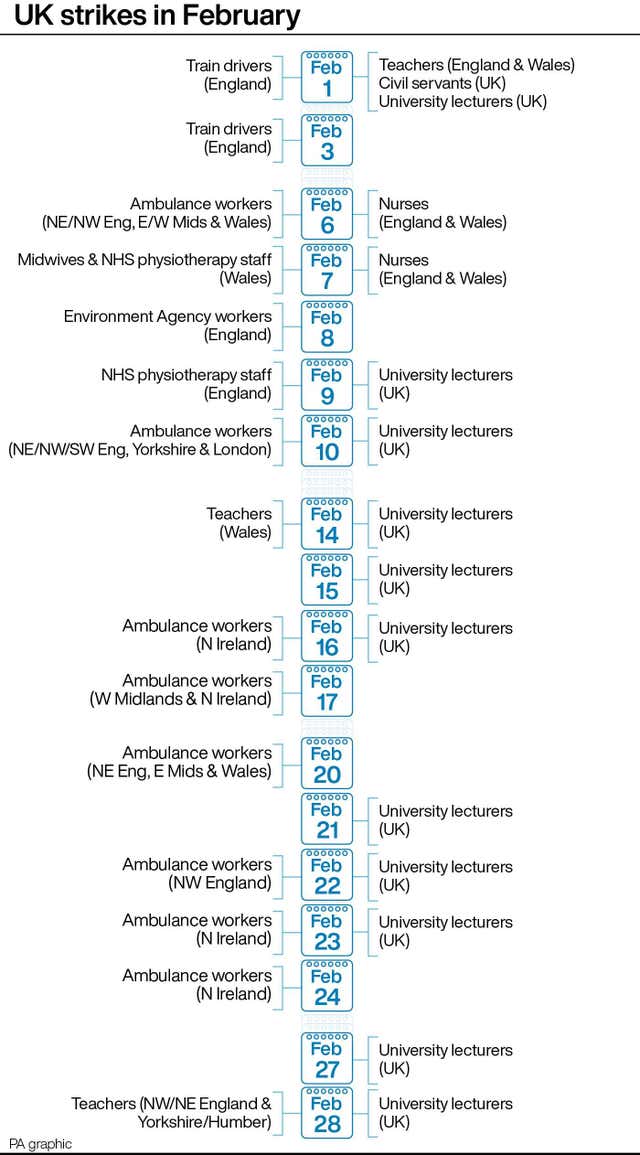 He added: "Maybe they'll come with a different attitude next week. We don't know yet."
RDG chairman Steve Montgomery said negotiations with Aslef are "going backwards" and "the talks have not moved on as quickly as we'd like".
He told Sky News: "We all understand that we want to give our staff a pay increase, (it's) naturally important, particularly in these economic climates.
Aslef says the offer would add a "significant" number of contracted hours to drivers.
Mr Montgomery said "we feel closer to a deal" with the RMT.
He went on: "RMT are presently consulting their members (on an offer) at this moment in time.
"I'm hopeful that the offer we've made will stop the strikes."
He apologised to passengers for the "very limited service" on Friday, and said the disruption would last "all day", with some services starting "slightly later" on Saturday.
Train drivers took part in the day of industrial action on Wednesday, which also involved teachers, university staff, civil servants, bus drivers and security guards.
About 1,900 members of Unite working as bus drivers for Abellio in London are completing a three-day strike on Friday in a separate dispute over pay.