Campaigners have staged a "night carnival" in London to call for the release of WikiLeaks founder Julian Assange.
Around 2,000 supporters from the Don't Extradite Assange Campaign met at Lincoln's Inn Fields near Holborn before marching past Parliament Square at 6pm.
The procession was led by an enormous gold-painted effigy of Lady Justice, with campaigners carrying lanterns and placards and a carnival drum group following them on the march.
He is currently fighting against extradition to the United States, having submitted an appeal to the European Court of Human Rights in December.
Speaking from a rally held at the Emmanuel Centre in Westminster after the march had ended, Mr Assange's wife Stella held up a scarf made by the late Dame Vivienne Westwood in commemoration of her husband's legal case, and said: "I was watching people who were just out on the town today and the response was incredible.
"Everyone was asking questions and filming, and they were very engaged. The carnival has had a big impact on central London.
"We need to keep building until the movement is so big that those in power and the courts realise that there is nowhere else to go than to free Julian."
Other speakers included Dame Vivienne's son Ben Westwood, WikiLeaks editor-in-chief Kristinn Hrafnsson, and former Labour leader Jeremy Corbyn.
Ben Westwood described how he and his late mother visited Assange in the Ecuadorian Embassy on several occasions, with Assange modelling in a fashion show in the building in 2014.
Some campaigners on the march wore carnival outfits, while others came dressed as prisoners and judges.
The statue of Lady Justice was carried by Hannah Ray, 43, executive director of The New Carnival Company on the Isle of Wight, who said that she decided to join the protest despite having had little involvement with the campaign to free Assange, as she thought that the costume would be "a perfect fit".
Ms Ray told the PA news agency: "I believe in freedom of speech and think that Julian Assange should be free."
John Rees, national coordinator for the Don't Extradite Assange Campaign, told PA that the group decided to stage a night carnival in order to be "dramatic" and "draw light to a dark place".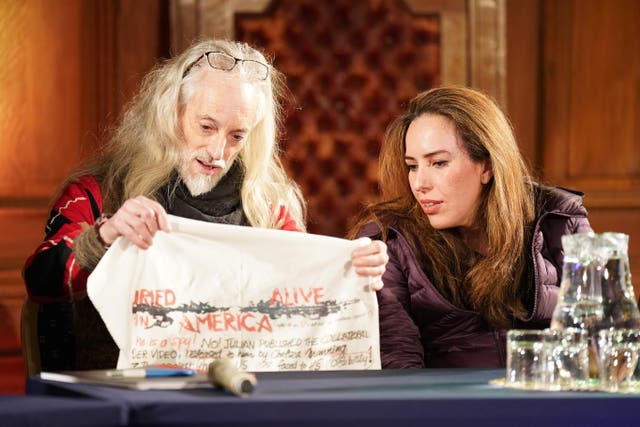 "We as campaigners have a responsibility to make sure that this case doesn't fade from the public eye.
"The newspapers that collaborated with Assange have written a joint letter supporting his release, and he has the support of most major human rights organisations in the world.
"This is unprecedented and in most cases this would be enough to have him freed. I hope that our action tonight will help put pressure on the British and American administrations to free Julian Assange."