A security guard at the British embassy in Berlin was caught spying for Russia in an undercover operation, a court has heard.
Briton David Ballantyne Smith, 58, was driven by an intense hatred for his own country and by pro-Putin views when he set out to pass secrets to the hostile foreign state, the Old Bailey was told.
He is alleged to have received substantial sums of money in exchange for sensitive information from the embassy in Germany.
The extent of his activities spanning four years were uncovered following his arrest in Potsdam where he was living in August 2021.
Among information found by police was an image of a letter classified as "secret" to the Prime Minister from the Secretary of State for International Trade and the Secretary of State for Business, Energy and Industrial Strategy.
In November last year, Smith pleaded guilty to eight charges under the Official Secrets Act by committing an act prejudicial to the safety or interests of the state.
On Monday, he returned to the Old Bailey for legal argument about the issue of Smith's motivation.
The defendant has claimed in a basis of plea that he did not intend to cause "prejudice" to the UK and wanted only to cause "inconvenience and embarrassment" to the British Embassy.
He claimed he was not paid and was motivated by grievance with his employers while suffering mental health issues.
But prosecutor Alison Morgan KC said the defendant held "strong anti-UK views" and supported Russia and Vladimir Putin.
She said: "The defendant's deliberate engagement with the Russian authorities by providing them with confidential and sensitive information demonstrates an inevitable and clear intention to cause prejudice to the UK.
"It is implausible to suggest that he only took possession of material within the context of a dispute with his employers or because he intended to expose security lapses."
Setting out the prosecution case, Ms Morgan described how Smith's activities were uncovered following an undercover operation.
It was prompted by a letter Smith sent in November 2020 to a member of military staff at the Russian Embassy in Berlin which suggested ongoing contact.
In the letter addressed to Major General Chukhrov, Smith issued a "small update about the British Embassy" including images of security passes of staff.
The undercover operation offered Smith the chance to obtain "highly sensitive information" about someone called "Dmitry", who Smith was led to believe was a Russian helping the UK.
Ms Morgan said: "Plainly such an individual would be of obvious interest to those that the defendant was in contact with within the Russian Embassy."
The court was shown CCTV footage of the so-called "walk-in" Dmitry arriving at the embassy on August 5 2021 and being put through security by Smith.
During a meeting with a member of staff in a room with no sound-proofing, Dmitry explained he was tasked with monitoring social media in the West about Russia.
Smith, who was hovering outside the door, was asked to copy a document Dmitry had brought with him and dispose of SIM card packaging.
Later in his security kiosk, Smith was shown on CCTV filming about 45 seconds of footage capturing Dmitry's visit saying: "This'll do. I'll get the rest tomorrow."
Smith was then approached by another undercover operative called "Irina" who posed as an agent of the Russian intelligence service.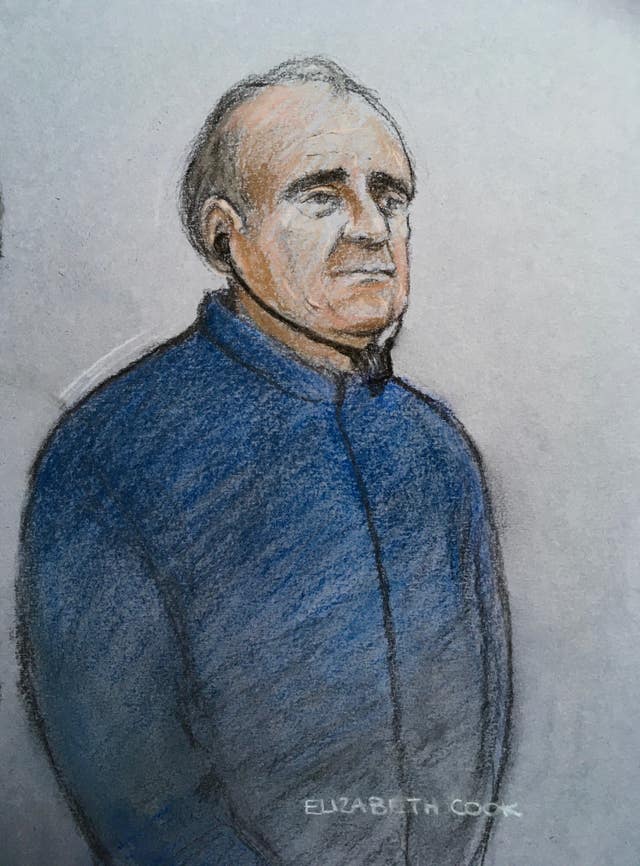 She said: "We need you to find out what's happened and we think you can help us."
Asked if he had any information, Smith said: "Just the usual run-of-the-mill bullshit."
He appeared reluctant to help, saying it had been "sprung on me" and he need to speak to "someone".
He added: "I don't trust the bastards I work for. Would you trust MI5 and MI6?"
He went on to complain about his "boring" job, saying: "To tell the truth I don't want to be there anymore. I don't want to be in Germany."
Ms Morgan said that following his interaction with Irina, Smith was arrested by German authorities on August 10 2021.
It was alleged Smith received "substantial" amounts of cash in exchange for his spying activities.
An analysis of his finances in 2021 found an absence of cash withdrawals indicating Smith had an alternative source of income.
In addition, 800 euros in cash was seized following his arrest, the court was told.
The court was told the British embassy had a clear desk policy for security reasons with all documentation secured at the end of each day.
From the beginning of the Covid-19 pandemic in March 2020, the embassy had been operating with a reduced staff of 10-20% in the building.
Smith, who is married to a Ukrainian woman, began working there in 2016.
After his wife moved back to her home country in late 2018, the defendant's behaviour changed, the court heard.
He went from being "keen and polite" to expressing anti-UK and anti-German views, the court heard.
Ms Morgan said Smith also expressed views about the war in Ukraine and supported Russia.
Smith collected memorabilia at his flat, including German uniforms from the Second World War and a Russian flag.
The investigation uncovered evidence that from around 2018, Smith began collecting secret information from the embassy which he stored on a USB stick.
From May 2020 he amassed a "significant" stash of images taken on a mobile phone and stored on an SD card, the court heard.
A draft letter in Russian dated May 14 2020 was found addressed to "Colonel Sivov" – a military attache at the Russian Embassy.
In it, Smith appeared to offer up a "sensitive" book from the defence section.
He wrote: "Knowing the Embassy, it will take some time before they even realise that it is missing.
"Obviously, I would like to remain anonymous for the time being, but I do have further information which I will send you later.
"I hope that you respect what I have written and understand my reasons for wishing to remain anonymous, since no-one wishes to get caught."
Mr Justice Murray is expected to rule on the defendant's intentions later in the week after Smith gives evidence on Tuesday.
Smith faces a maximum sentence of 14 years in prison for spying when he is sentenced on Friday.