Average wages in the UK have grown at a faster rate than at any time outside of the pandemic, amid signs of a slowdown in the jobs market, official figures show.
The Office for National Statistics (ONS) said that regular pay growth, which excludes bonuses, surged to 6.7% in the three months to December as employers came under increased pressure to lift wages as living costs soar.
The only time on record that the rate has been higher was in 2021, in the midst of the global pandemic, when regular pay growth reached highs of 7.3%.
But the ONS data showed workers are still seeing their pay growth fail to keep pace with sky-high prices as the cost-of-living crisis keeps households under pressure.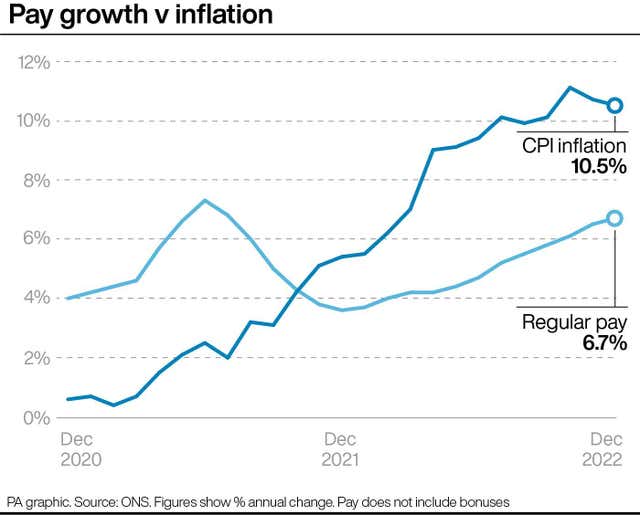 However, the ONS indicated signs of a slowdown in the labour market, with another fall in vacancies being listed and a slight uptick in the rate of redundancies.
The estimated number of vacancies fell by 76,000 – the seventh consecutive fall, the ONS said.
This reflects economic pressures and uncertainty, leading firms to hold back on recruitment, it said.
It comes after figures last week showed UK output was flat in the final quarter of 2022, narrowly avoiding recession but seeing growth stagnate ahead of what is expected to be a difficult year for the economy.
Chancellor Jeremy Hunt insisted: "In tough times unemployment remaining close to record lows is an encouraging sign of resilience in our labour market.
"The best thing we can do to make people's wages go further is stick to our plan to halve inflation this year."
Private sector workers saw a 7.3% boost to average pay, significantly higher than the 4.2% increase for public sector workers, who have been taking significant strike action in recent months, according to the data.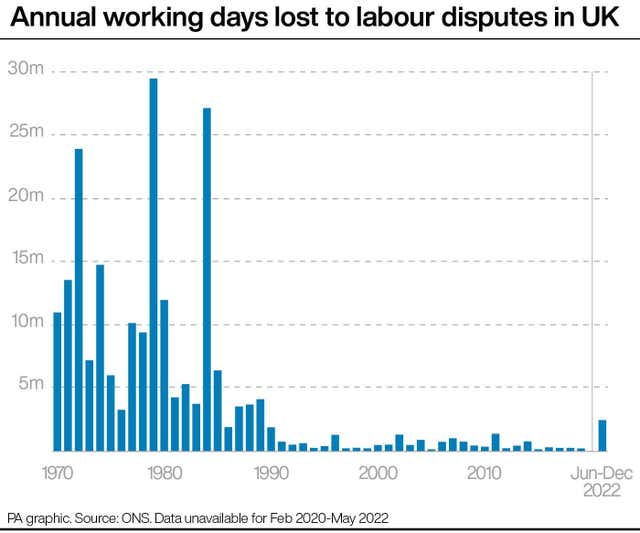 Once consumer prices index (CPI) inflation is taken into account, average regular pay fell by 3.6% in the three months to December, compared with the previous year.
It is a slightly smaller decline than the record fall recorded in the three months to June last year, at 4.1%, but still remains among the largest falls seen since comparable records began in 2001, the ONS said.
It means that even though average wages are rising, they are still not meeting inflation, which reached 10.5% in December and continues to erode household incomes.
The Bank's policymakers have previously said that if employers increase staff wages too much then it can have the negative effect of "locking in" high inflation.
James Smith, developed markets economist at ING Economics, said there is little sign that wage growth is slowing, which will be "a concern for the Bank of England's hawks".
He is predicting another rate hike in March by 0.25 percentage points, taking interest rates to 4.25%, although he said that it is likely to be the last increase.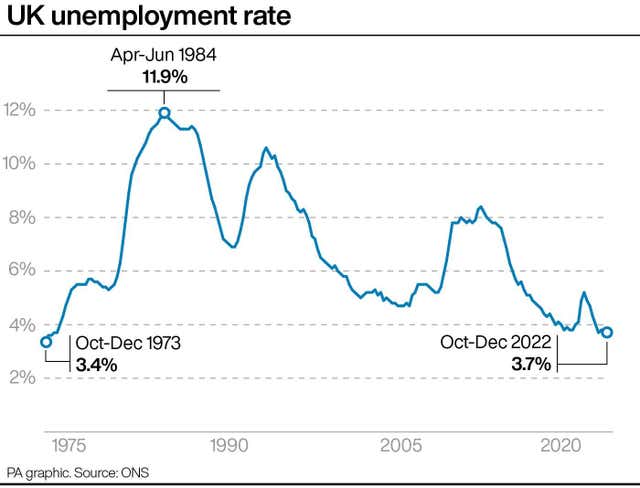 This was driven largely by younger people and students, and older people aged 50 to 64, for whom inactivity dropped the most.
Jane Gratton, head of people policy at the British Chambers of Commerce (BCC), said: "Businesses are crying out for people to fill job vacancies at all skill levels, and this must be the number one focus for Government if it's serious about economic growth.
"There are still a huge number of vacancies, currently sitting at 1.134 million, and this is stopping firms in their tracks. It means they are struggling to meet the orders on their books, and it puts any plans for growth far out of reach."
The number of jobless people hit 1.27 million in the three months to December, an increase of 26,000 people.
But the number of people in employment increased by 32,000 to hit 32.8 million over the period.