Nicola Sturgeon was dubbed the "finest public servant" of the devolution age by one of her party's MPs following news she will resign.
Stewart McDonald MP for Glasgow South tweeted: "Nicola Sturgeon is the finest public servant of the devolution age.
Scottish Deputy First Minister John Swinney, one of several possible candidates who could succeed Nicola Sturgeon as leader of the SNP, has thanked the First Minister after her decision to step down.
"I am very sorry (Ms Sturgeon) has decided to step down as First Minister and (the SNP) leader," he tweeted.
"She has given outstanding leadership to our country, Government and Party."
Mr Swinney, who is touted as one of Ms Sturgeon's successors, acknowledged Ms Sturgeon's role as the first female and longest serving First Minister.
"She has achieved so much for Scotland. Minimum unit pricing of alcohol, expansion of early learning, measures to tackle domestic violence, delivery of The Promise and crucially, leadership through Covid, are just some.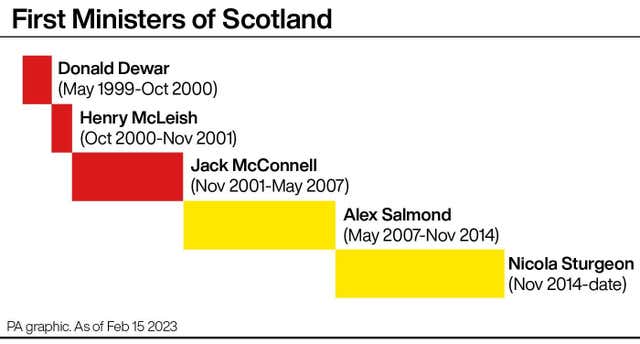 "It has been my privilege to support her as Deputy First Minister. She has my warmest good wishes for the future and heartfelt thanks for all that she has done for Scotland, for the cause of Independence and the Scottish National Party."
Nicola Sturgeon stood down on Wednesday morning, saying Nicola Sturgeon the "time is now" for her to stand down as Scotland's First Minister, adding that it was "right for me, for my party and for the country".
SNP president Michael Russell has thanked Nicola Sturgeon for her "extraordinary and brilliant leadership" after she announced her resignation as Scottish First Minister.
"As President of (The SNP) I thank (Ms Sturgeon) for her extraordinary and brilliant leadership of her party and country," he tweeted.
"As a friend for 30 years I wish her all the best and look forward to her continuing huge contribution to our national wellbeing and success."
Leader of Glasgow City Council, Susan Aitken, thanked Ms Sturgeon for her contribution. She said: "Thank you Nicola Sturgeon for everything. You've been a magnificent leader of our country, the SNP and Scotland's cause.
"You've blazed a trail for women, held fast to your integrity and shown extraordinary courage. Scotland is forever changed for the better by your leadership.
"Your combination of intelligence, empathy, eloquence and conviction as First Minister will serve as an example and inspiration for a very long time.
"You have more than earned the right to leave on your terms with head held high but you will be missed so much."
Tributes have also been paid across the political spectrum, with Roz Foyer, general secretary of the Scottish Trades Union Congress (STUC) thanking her for her commitment to the trade union movement.
Ms Foyer said: "Throughout her leadership, the First Minister has shown a consistently high level of respect for the role of trade unions in Scotland and has been committed to working with us to establish Scotland as a Fair Work nation.
"I want to personally thank the First Minister for her unparalleled, long-standing public service to Scotland. We wish her all good wishes for the future."
Scottish Secretary Alister Jack said Nicola Sturgeon had been a "formidable politician" and he thanked her for her service as First Minister.
The Conservative minister said: "I particularly appreciate the work that she undertook to help us deliver two new Freeports in Scotland, bringing thousands of jobs and millions of pounds of investment.
"A new first minister will have a real chance to re-focus the Scottish Government on what they were elected to do – improve public services such as health and education that people rely on and that are vital to Scotland's future success.
"Her resignation presents a welcome opportunity for the Scottish Government to change course, and to drop its divisive obsession with independence.
"I want to see a Scottish Government that works hand in hand with the UK Government to realise our full potential as a country."
Scottish Liberal Democrat leader Alex Cole Hamilton said Scotland faces many challenges and called on the SNP to restore stability after Ms Sturgeon stepped down.
But today is "not a day for political attacks", Alex Cole-Hamilton told BBC News.
The Edinburgh Western MSP recalled a warm moment between the two when the FM offered him "words of comfort" after his young daughter choked on a coin and had to be resuscitated around five years ago.