No evidence of a crime has been found in the investigation into Nicola Bulley's disappearance, a police chief said, as he criticised "ill-informed speculation" that had distracted detectives.
Lancashire Police Assistant Chief Constable Peter Lawson defended his force's investigation into the case of the missing mother-of-two at a press conference on Wednesday.
Ms Bulley disappeared while walking her springer spaniel, Willow, in the village of St Michael's on Wyre after she dropped her two daughters – aged six and nine – at school on January 27.
Setting out the details of the probe in more detail than police "normally" would, he said the scale has been "unprecedented".
Nearly 40 detectives have sifted through hundreds of hours of CCTV, dashcam footage and tip-offs from the public.
And Mr Lawson said: "There is no evidence to indicate a criminal aspect or third-party involvement in Nicola's disappearance."
He added: "We've shared more detail in this conference than would normally be the case but we intended, by doing so – both in terms of the scale of the investigation and the resources and the intensity of it and something around Nicola's vulnerabilities – that we are able to counter some of… the ill-informed speculation and conjecture that has at times distracted the investigation from what ought to have been its priorities.
"It has been a distraction. That is potentially damaging to the investigation, the community of St Michael's and most importantly Nicola's family."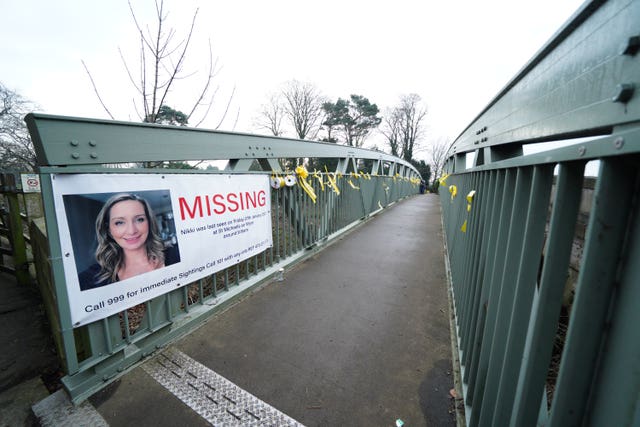 She said the 45-year-old was designated a "high-risk" missing person because of a "number of specific vulnerabilities" and her "main working hypothesis" was still that the 45-year-old fell into the River Wyre.
"As any senior investigating officer does, you form a number of hypotheses – that is scenarios which are possible from the information to hand," she said.
"Those hypotheses included the one that she possibly could have gone into the river, that there could have been third-party involvement and lastly, that she could have left the area voluntarily.
"Those hypotheses have remained in place throughout, are reviewed regularly."
In an answer to a question, she later added: "I'm not going to go into the details of those individual vulnerabilities. I've asked you to respect the family, who are going through unimaginable pain and distress at this moment.
"But those vulnerabilities based our decision-making in terms of grading Nicola as high risk and have continued to form part of my investigation throughout."
Ms Smith told of "persistent myths" about the case.
"The red van, we're really grateful to members of the public for ringing into the inquiry, we wouldn't have got this far without everyone's help.
"But it's also really obvious that we are being inundated with false information, accusations and rumours which is distracting us from our work."
She said reports of a red van in the area on the morning of Ms Bulley's disappearance is not being treated as suspicious.
At a press conference on February 3 Lancashire Police first told the public of their "main working hypothesis" that the mortgage adviser fell in the river during a "10-minute window" between 9.10am and 9.20am that day.
She has still not been found and detectives extended the search for her to the sea on February 3.
Asked if she hoped to find her alive, Ms Smith said: "I hope with all my heart that we find Nicola Bulley alive more than anything."