The brother of nine-year-old Olivia Pratt-Korbel has described hearing her say "I'm scared, I'm scared" before she was shot.
Thomas Cashman, 34, is accused of fatally shooting Olivia and injuring her mother, Cheryl Korbel, 46, after chasing Joseph Nee into their house in Dovecot, Liverpool, on August 22 last year.
In a video interview played to Manchester Crown Court on Friday, Olivia's brother, Ryan Korbel, said he had been in his room when he heard three loud bangs.
He said: "The next thing I heard was footsteps across the landing. It was Olivia, she was running downstairs screaming: 'Mum, I'm scared'."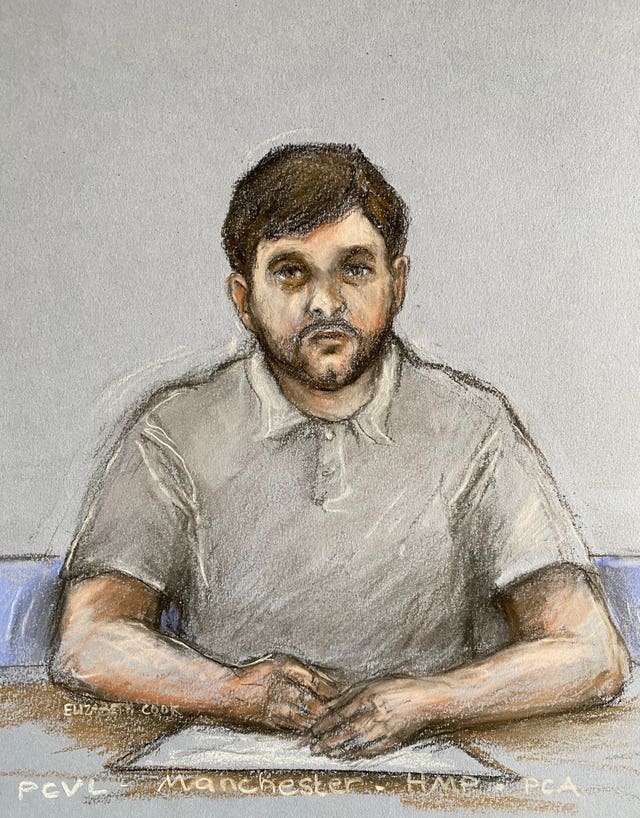 He said: "No, she literally said 'I'm scared mummy, I'm scared'.
"Then I heard her footsteps.
"Downstairs she said it another two times 'I'm scared, I'm scared' and then everything else just kicked off."
Mr Korbel said he went to the landing and saw Olivia four or five steps up from the bottom of the staircase, a man lying on the floor and his mother "wrestling" with the door.
He said: "My mum and the fella, who I believe was Joseph Nee, who I'm quite happy to name, then got the door shut.
"The door's burst back open but my mum's behind it.
"An arm's come round the door with a black handgun and another shot's gone off, it could be two, I can't remember.
"Olivia was in hysterics, my mum was in hysterics, my 18-year-old sister was in hysterics, we all were."
He told officers Nee was sitting on his doorstep and then went outside, where Mr Korbel followed him and was "screaming abuse".
He said: "I didn't know my sister had been hit at this point.
"He collapsed in the middle of the road."
He said he went back inside and Nee was picked up by two men in an SUV.
Mr Korbel told police: "My mum put Liv in my arms and told me to keep pressure on her chest.
"I didn't now why until I lifted her pyjama top up and seen a hole."
He said a neighbour came in and gave CPR to Olivia.
"Her lips had gone blue, she wasn't even bleeding out the gunshot wound," he said.
"I knew it was over."
He said: "He cowered behind the door like a shithouse."
He told police: "It keeps going over and over in my head.
Cashman, of Grenadier Drive, Liverpool, denies the murder of Olivia, the attempted murder of Nee, wounding with intent to do grievous bodily harm to Olivia's mother, and two counts of possession of a firearm with intent to endanger life.
Hayley Freeman and another neighbour, Patricia Cowhig, had been at Ms Korbel's home to share a cup of tea and they were all sitting in her lounge.
She heard loud bangs outside and said Ms Korbel went to her front door to find out what was going on, when Nee, pursued by Cashman, tried to get into the house to escape as Olivia's mother tried to slam the door and block his way.
Ms Freeman said in a statement: "I remember Cheryl screaming and the sound of a struggle.
"We both got up and ran into the back kitchen. We shut the door and called 999.
"I heard another bang and saw a flash. I then heard Cheryl screaming, I remember her saying Liv's name and that Liv had been shot."
He said: "Then I was told the baby, Olivia, had been shot then saw Cheryl over her saying, 'Stay with me baby'.
"I believe she was still breathing at this point. I think she then stopped breathing and the operator took me through starting CPR."
Pc Daniel Cooper, part of the Matrix armed response unit of Merseyside Police, was the first officer on scene.
His statement said: "As I looked at the stairs, I could see a female with an obvious injury to her hand sat crying and shouting hysterically.
"I then noticed a foot and lower legs of a female child wearing white socks, stained red, which I assumed was from blood.
"On the small landing lay a small female child. Olivia was lying on her back with what appeared to be pyjamas also stained with blood.
"An adult male was carrying out CPR with his phone beside him on speaker phone.
"I could see a small bullet entry wound to her chest area, just above her stomach. Her eyes were open, lips blue, no movement from her in any way.
"As I picked her up in my arms her body was limp.
"I decided Olivia needed urgent medical attention. I picked her up in my arms and carried her down the stairs.
"As I did, Pc Metcalf was coming in with the trauma medical bag.
"I said to her we needed to go straight to hospital as Olivia had a gunshot wound to the chest."
The trial continues and is expected to last four weeks.