Britain is committed to "swift and robust action" to counter any threat to UK national interests from China, under Rishi Sunak's updated blueprint for UK foreign and defence policy.
The "refreshed" integrated review (IR23) document says China under Communist Party rule represents an "epoch-defining and systemic challenge" to almost every aspect of government policy and the everyday lives of British people.
While the UK will seek to continue to engage "constructively" with the regime on tackling shared priorities, the review warns that this will become increasingly difficult if Beijing continues its trend towards greater "authoritarianism and assertiveness".
The document describes the approach as a "template for mature diplomacy" between two permanent members of the UN Security Council, mirroring that adopted by key allies, including those in Europe, the US, Australia, Canada and Japan.
"But wherever the Chinese Communist Party's actions and stated intent threaten the UK's interests, we will take swift and robust action to protect them."
In his foreword to the review, Mr Sunak says: "China poses an epoch-defining challenge to the type of international order we want to see, both in terms of security and values – and so our approach must evolve."
"We will work with our partners to engage with Beijing on issues such as climate change. But where there are attempts by the Chinese Communist Party to coerce or create dependencies, we will work closely with others to push back against them."
The document was unveiled as the Prime Minister was in California for a three-way summit with the United United States and Australia as part of the Aukus project to develop nuclear-powered submarines for the Australian navy.
The refresh of Boris Johnson's original integrated review from 2021 was drawn up in part in response to Russia's invasion of Ukraine.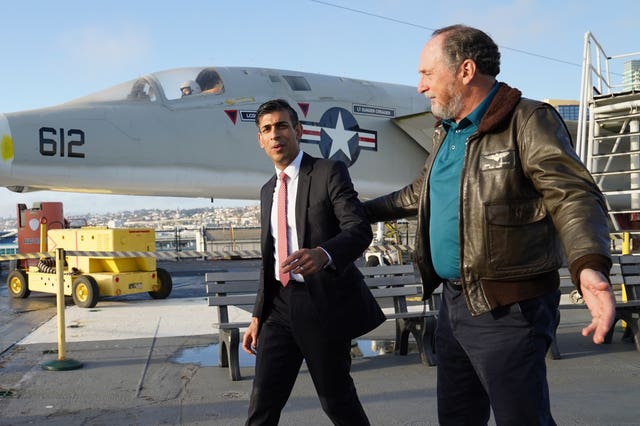 It refers to the "threat" posed by certain actions from Beijing but does not label the Chinese state as a threat in itself, which will likely lead to criticism from "hawks" in the Tory party.
Liz Truss had been expected to officially re-designate China as a "threat" if her premiership had not been so brief.
Mr Sunak has dialled down on his own language surrounding China since he challenged to replace Boris Johnson as Tory leader last summer. At the time, he called China the "biggest-long term threat to Britain".
In the Commons, former Conservative leader Sir  Iain Duncan Smith said he was "confused" as to what the Government's position  was as he  contrasted what he said was the UK's reluctance to impose sanctions on China compared with the US.
"Does that now mean that China is a threat or an epoch-defining challenge or a challenging government epoch or none of that?" he asked to laughter from MPs.
Foreign Secretary James  Cleverly replied: "He will see through our actions that we do respond robustly to China when it behaves in a way that we disagree but we will also attempt to steer China in a better direction."
The review confirms plans announced overnight to increase defence spending by £5 billion over the next two years – less than Defence Secretary Ben Wallace had been reportedly seeking – with an "aspiration" to raise it to 2.5% of national income "as fiscal and economic circumstances allow".
The promised funding will see an extra £1.98 billion this year and £2.97 billion next year for defence.
Some £3 billion will be invested in defence nuclear enterprises, including supporting the Aukus project, while £1.9 billion will replenish and bolster munitions stockpiles.
On Russia, the review states the UK will seek to contest Moscow's "malign" influence on the world stage, working with countries from Moldova to Mongolia and central Asia, while "degrading" Russian capabilities which threaten the UK.
"A vital part of this is supporting Ukraine to reassert its sovereignty and denying Russia any strategic benefit from its invasion," it says.
In other measures, a new National Protective Security Authority within MI5 launched on Monday will give expert advice to UK businesses and other organisations on how to counter foreign spies.
Funding for the government-wide China capabilities programme will be doubled, boosting Mandarin language training and diplomatic skills.
A new national security college curriculum will boost expertise across government while a £1 billion integrated security fund will replace an existing scheme to focus on the priorities in the integrated review.
The UK's critical minerals strategy will be updated to ensure access to vital resources while the BBC World Service will be given an additional £20 million to maintain 47 language services to help tackle disinformation from hostile states.