The Government is set to start "detailed negotiations" with unions on teachers' pay after fresh talks at the Department for Education, the head of the NASUWT union has said.
Dr Patrick Roach, its general secretary, said Education Secretary Gillian Keegan had informed him of the Government's "starting point" and that there was nothing standing in the way of "getting a deal onto the table".
The NASUWT and headteachers' union NAHT have held separate talks with Ms Keegan on Monday, with the Association of School and College Leaders (ASCL) doing the same on Tuesday.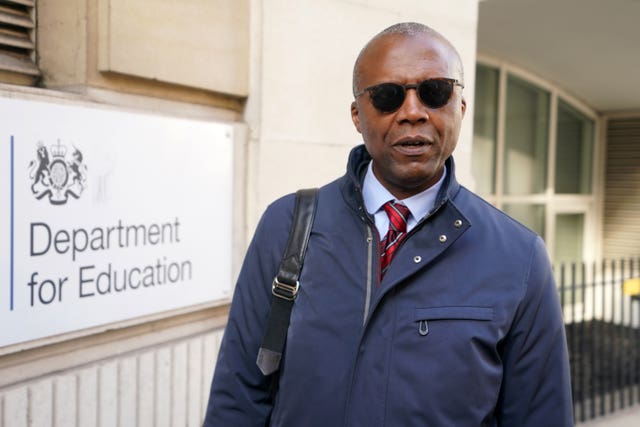 "Ministers have heard from us and we have heard from them on their starting point for pay negotiations for this year and next year.
"Whilst there are numerous issues that will need to be discussed and a lot of ground to make up, there is the scope to find a basis for agreement which all sides can support.
"Resolving our ongoing dispute with the Government can only be achieved by reaching a negotiated settlement."
He told the PA news agency: "It is a continuation of a positive dialogue that we have been having.
"Nothing has changed in terms of a deal being offered or the circumstances to get everybody in the same room.
"But there is clearly a genuine desire to talk and there is a genuine desire on all sides to understand what the Government wishes to offer."
Mr Whiteman said he did not know when negotiations might take place, but added: "That is not to say that I am not without genuine hope and some expectation, but when it will happen I am not sure."
"As soon as the conditions are there, that we can all get in the room together, then I think progress can be made."
The Government has not met the National Education Union (NEU) for fresh talks ahead of its planned strike on 15 and 16 March, despite it being Britain's largest education union.
Mary Bousted, its joint general secretary, accused Gillian Keegan of "playing politics" and said the individual meetings did not constitute "formal" negotiations.
She said: "This is yet more distraction politics.
"The Education Secretary needs to call all the education unions together to hold dispute resolution talks to get the issue of teacher pay in England sorted.
"Gillian Keegan needs to take a leaf out of the Welsh Government's book, stop playing politics and get down to serious negotiation."
The Department for Education has been contacted for comment.