Asylum seekers facing removal to Rwanda can appeal against Home Office decisions over alleged errors in the consideration of whether relocation poses a risk to their human rights, a judge has ruled.
A group of individuals from countries including Iran, Iraq and Syria are aiming to overturn rulings made by two High Court judges in December.
Lord Justice Lewis and Mr Justice Swift dismissed a series of legal bids against the Government's plan to send asylum seekers to Rwanda, but gave the go-ahead to several individual asylum seekers and the charity Asylum Aid to appeal against their decision.
A full hearing is due to begin in late April.
In a preliminary ruling on Tuesday, Lord Justice Underhill gave permission for some asylum seekers to widen the scope of their challenges against the previous rulings.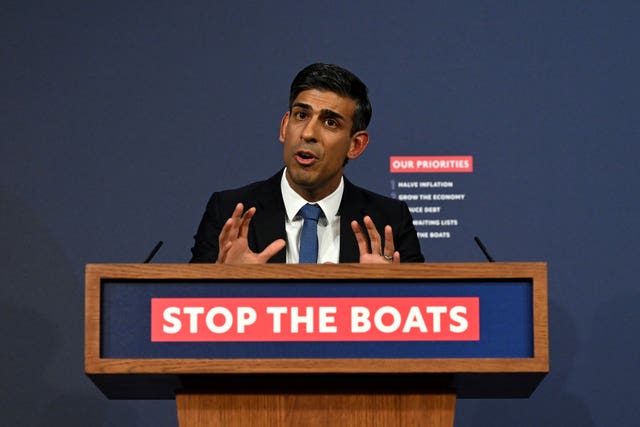 Asylum seekers will also be able to argue that judges fell into error when deciding if people relocated to Rwanda faced a "real risk" of being sent back to countries where they may face persecution or other ill-treatment in breach of their human rights.
Lord Justice Underhill rejected other individual's bids to broaden appeals based on other arguments, including over the consideration given to whether one man was a victim of trafficking.
The appeal judge's decision comes after asylum seekers and Asylum Aid were previously allowed to pursue appeals on a number of issues.
In April, the Court of Appeal will be asked to consider whether the two judges were wrong to find there were sufficient safeguards to prevent asylum seekers from being returned to a country where they were at risk of persecution and whether the Rwanda scheme is "systemically unfair".
Lord Justice Underhill's ruling also comes after the Government's controversial asylum proposals cleared their first legislative hurdle in the House of Commons on Monday night.
The Illegal Migration Bill aims to stop people claiming asylum in the UK if they arrive through unauthorised means, with the measures part of Prime Minister Rishi Sunak's action plan to deliver on his pledge to stop small boats of migrants from crossing the English Channel.
The approach has been denounced by the UN's refugee agency as an effective "asylum ban".
In April last year, then-home secretary Priti Patel signed an agreement with Rwanda for it to receive migrants deemed by the UK to have arrived "illegally", and therefore inadmissible under new immigration rules.
Several challenges were previously brought against the proposals, which were described at the time as a "world-first agreement" in a bid to deter migrants from crossing the Channel.
The first deportation flight – due to take off on June 14 – was then grounded amid a series of objections against individual removals and the policy as a whole.
Following hearings in September and October, Lord Justice Lewis and Mr Justice Swift rejected arguments that the plans were unlawful.
However, they did rule in favour of eight asylum seekers, finding the Government had acted wrongly in their individual cases.