Motoring groups welcomed Jeremy Hunt's decision to extend the 5p per litre cut in fuel duty.
The Chancellor confirmed in his Budget that the reduction introduced in March last year will be retained for another 12 months, and fuel duty will not increase in line with inflation.
This will save the average driver £100 over the next 12 months, Mr Hunt said.
Prices reached record highs of £1.92 for petrol and £1.99 for diesel in July last year, largely due to Russia's invasion of Ukraine leading to an increase in the cost of oil.
AA head of roads policy Jack Cousens said: "We are pleased the Chancellor has listened to the AA and frozen fuel duty.
"Not only will this save drivers heavy duty pain at the pump, but it will help keep the price of goods and services down as they are mainly transported by road."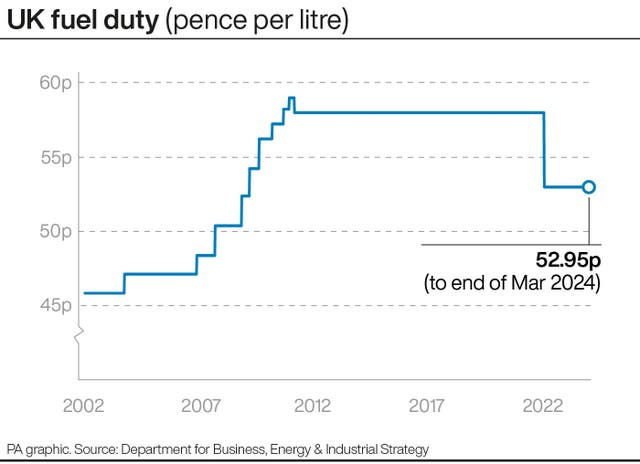 "The cut has given drivers some much-needed relief in what has been the most torrid year ever at the pumps, with price records being broken even after duty was cut.
"Given the importance of driving for consumers and businesses, duty should be kept low to help fight inflation."
Mr Hunt's decision means fuel duty will remain 52.95p per litre for petrol and duty.
Before last year's cut, it had been frozen at 57.95p since March 2011.
VAT is charged at 20% on top of the total price.
RAC Foundation analysis shows tax makes up around half of pump prices.
Public transport groups were frustrated by the measures on fuel duty in the Budget.
"If the Government really wanted to help those who are struggling the most with the cost-of-living crisis, and support green growth, it should be helping to reduce the cost of public transport."
Andy Bagnall, chief executive for rail industry body Rail Partners, said: "While measures helping with the cost of living are clearly welcome, freezing fuel duty for the 13th consecutive year, set against a 5.9% increase in rail fares earlier this month, has the unintended consequence of making a low-carbon form of transport relatively less attractive.
"Government needs to look holistically at how it supports different transport modes to encourage people to make greener choices to get from A to B."