The Chancellor is presiding over a "high-tax, high-spend, low-growth, quasi-socialist economy", a Conservative backbencher has claimed.
Philip Davies, MP for Shipley, urged Jeremy Hunt to lower the "burden of taxation" and introduce "some tax cuts" days after the Chancellor's Spring Budget.
Speaking during Commons Treasury questions, Mr Davies said: "Although I appreciate it's largely as a result of the idiotic decision to lock down the country and the economy for the best part of two years, the Chancellor nevertheless finds himself presiding over a high-tax, high-spend, low-growth, quasi-socialist economy.
Tory former minister Sir Desmond Swayne could be heard shouting "answer" to the Chancellor.
Mr Hunt said he hoped Mr Davies was reassured by the corporation tax cut worth £9 billion, adding: "And if we make it permanent, the capital allowances as I would like to, that will give us the best investment incentives anywhere in the OECD."
Conservative former cabinet minister Dame Andrea Leadsom added her voice to Tory backbenchers concerned that the Government's childcare extension could see parents seeking to look after their own children "left out and left in poverty".
She told the Commons: "I do congratulate the Treasury team for the excellent new policy providing much more childcare support to families.
"But could (the minister) persuade (the Chancellor) to meet with me and a small group of colleagues to talk about the policy in the round and how we can give more support to all families, more flexibility where there's informal childcare through, for example grandparents, and indeed where families want to choose to look after their own children at home, without being effectively left out and left in poverty as a result of their decisions for their families?"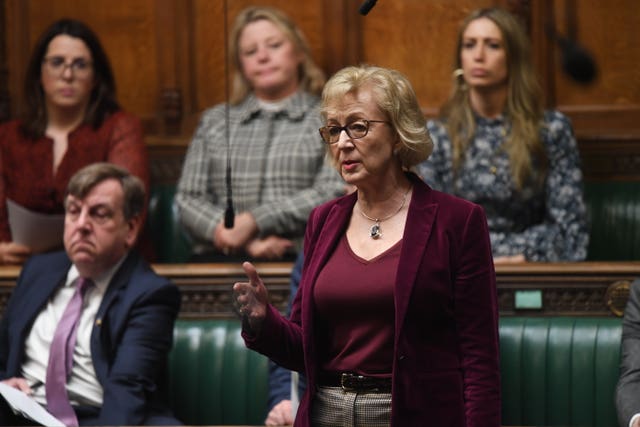 The Chancellor was also urged to "rule out changing the state pension timetable".
Labour's Sharon Hodgson (Washington and Sunderland West) asked: "At the same time as the Chancellor has been dishing out tax cuts for the pensions of the richest earners, the Tories are considering making millions of people work even longer than they planned before they can get their state pension.
"So will the Chancellor today rule out changing the state pension timetable?"
Mr Hunt replied: "What she forgets is that it's not just doctors or indeed millionaires who want to save for a decent pension pot, it's ordinary people and that's who we are on the side of in this Government and when it comes to reforms to the state pension age, we follow a process that balances the interests of taxpayers, the interests of pensioners and also looks at life expectancy."