Passport Office workers have begun a five-week strike in a dispute over jobs, pay, pensions and conditions as a union warned it could cause delays for those looking to renew their passports.
More than 1,000 members of the Public and Commercial Services union (PCS) at eight sites are walking out in an escalation of the long-running row.
Picket lines were mounted on Monday outside offices in Glasgow, Durham, Liverpool, Southport, Peterborough, London, Belfast and Newport in Wales.
PCS general secretary Mark Serwotka said he expects to see "huge delays" for those trying to renew passports ahead of their summer holidays.
The Home Office has said there are currently no plans to change official guidance which states that it takes up to 10 weeks to get a passport.
Mr Serwotka told Sky News: "In my opinion there will be huge delays in the already 10 weeks that people are supposed to apply for passports, and there will be huge disruption on the fast-track service that people can use when they want to get a passport quicker.
"The Government says it has got contingency measures in place so we'll see how that works out over the next few days and weeks, but I would expect there to be delays."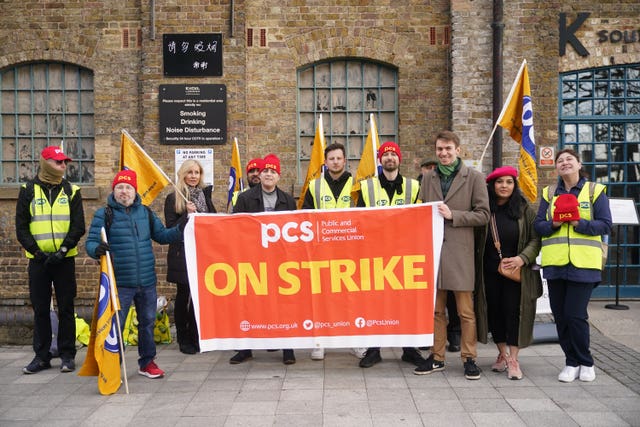 Speaking from the London picket line, the 27-year-old told the PA news agency: "Inflation is sitting at 10%, and basic items like food have gone up in price by 16%. The pay rise the Civil Service has been given is around 2%, and in the union our feeling is that this isn't enough for our members to contend with the cost-of-living crisis.
"The strike here is likely to cause disruption, which we regret, but what we'd like is for the Government to get around the negotiating table with our leadership and put a fair pay rise on the table.
"A lot of people in the Civil Service are struggling with in-work poverty – around 40,000 civil servants are going to food banks, and 45,000 are claiming in-work benefits, which are often the benefits that they themselves administer.
"There have also been cuts to the Civil Service pension and changes to the conditions. We've noticed that our members are being made to overpay on their pension, and we're campaigning for that money to be returned to our members."
He added: "Here in the Passport Office we work to make sure that people can travel and go abroad on holiday, but many of our own staff can't afford that due to squeezes in the cost of living."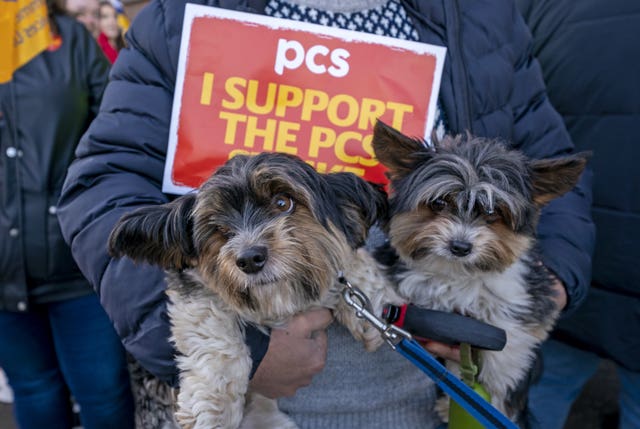 "Members are having to make decisions about whether they can heat their homes or eat, or take their kids out instead of having to stay at home.
"In the Passport Office there are hundreds of members who have just received a pay rise because their wages had actually fallen below national minimum wage, and they work for a Government department, which is disgraceful really – they should be paid considerably more than that."
He added: "Backlogs last year were cleared out by hard-working members of PCS. The Home Office has recognised the need to recruit more staff. I'm sure what people ultimately want is a well-staffed, well-paid Passport Office where members of staff are proud to work there and are quick to process passports."
The PCS said those taking action will be supported by a strike fund.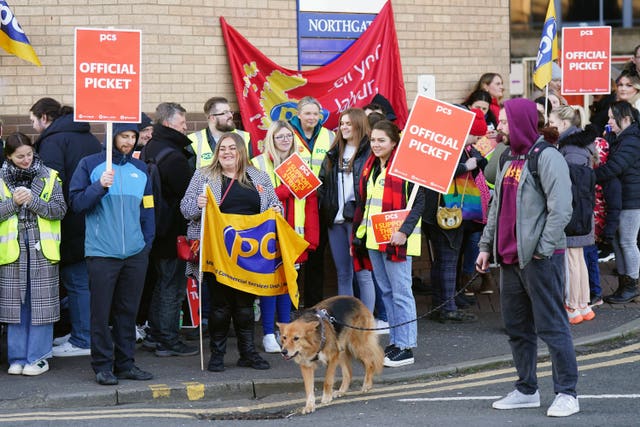 He told Sky News on Monday that there has been "radio silence" from the Government without even "one minute" of negotiations since strikes began.
He added: "If the Government can talk to the health service, and I'm glad they did, to teachers, and I'm glad they did, to firefighters, and I'm glad they did, surely the question must be asked 'Why are we now seeing this level of strikes and still the Government will not pick up the phone and have a single minute of talks to avert this disruption?'"
The union is stepping up strikes, with a nationwide walkout of more than 130,000 civil servants planned for April 28.
The Home Office said the Passport Office has already processed more than 2.7 million applications this year, adding that more than 99.7% of standard applications are being processed within 10 weeks, with the majority of those delivered to customers well under this timescale.
A spokesperson said: "We are working to manage the impact of this strike action, whilst ensuring we continue to deliver vital services to the public through our comprehensive contingency plans.
"There are currently no plans to change our guidance which states that customers should allow up to 10 weeks to get a passport."