A disabled woman who died days after she was dropped by care home workers was discharged from hospital on the day of her fall with undiagnosed rib fractures and a fracture to her left arm, an inquest has heard.
Lyn Parker, 64, fractured her ribs and both arms when she fell at least 1.5 metres after two care workers tried to lift her from her wheelchair into her bed using a sling at Tudor Avenue Residential Care Home in Hampton, south London.
Ms Parker, from Kingston upon Thames, was on the floor for more than three hours before an ambulance arrived on January 15 2021, West London Coroner's Court heard.
She died 10 days later at Kingston Hospital on January 25 2021.
A consultant at the hospital told the court on Tuesday that the main cause of Ms Parker's death was "aspiration pneumonia".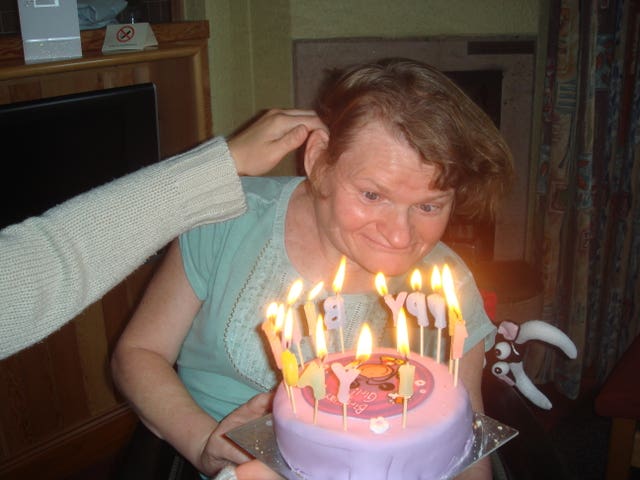 She was discharged in the early hours of January 16 but had to be taken back in the morning after a care home worker found her left arm was "swollen and black".
Dr Sumit Dutta, a consultant in emergency medicine at Kingston Hospital, treated Ms Parker on January 15.
Jurors heard from his statement that Ms Parker was "combative" to his attempts to examine her and that he treated her for the fracture to her right arm and what he believed to be a reaction to morphine which paramedics had administered.
In a second statement, he added: "In hindsight I should have arranged a pan trauma CT scan.
"At the time I believed the identified injuries accounted for her symptoms.
"I should have had a lower threshold to widen the net of examination."
Dr Dutta said that if the scan had been ordered Ms Parker would have been admitted to hospital and would not have been discharged on that day.
Dr Khalid Mohammed Ali, a fellow consultant in emergency medicine at the hospital, co-led an internal investigation into Ms Parker's care.
Extracts of his report were read in court which detailed "a missed diagnosis of fractured ribs and a left humeral fracture" on Ms Parker's first presentation to hospital.
However, Dr Ali wrote that he did not think "earlier recognition" would have changed the final outcome because Ms Parker was an "extremely frail and vulnerable adult" with "multiple co-morbid conditions" and "extremely limited physiological reserve".
He said it was not discovered during her first presentation to hospital because there had been no swelling and the non-verbal Ms Parker could not say she was in pain.
"If a patient cannot verbalise and tell you that there is a pain there you might miss it," he added. "That is why on the first presentation there was no X-ray done on the left arm."
He agreed that the initial medical team should have "widened the scope of their investigation" and ordered a "trauma CT scan" but insisted it would not have changed the eventual outcome.
"Unfortunately, in the case of Ms Lyn Parker … the main cause of her passing was aspiration pneumonia," he said. "I don't believe the outcome will change in the 12 hours difference between first and second presentation."
Rebekah Schiff, a consultant geriatrician and general physician at Guy's and St Thomas' Hospital, said she did not think Ms Parker should have been discharged on January 15.
"That is due to the fact that she had not been adequately assessed on that day and, therefore, that led to erroneous conclusions that she could go back to the home at that point," she said.
Called to court as an independent expert, Dr Schiff told jurors Ms Parker's fractured ribs would have made it difficult for her to take deep breaths and meant she would have developed respiratory problems "quicker".
She told the court that Ms Parker's death was "inevitable".
"Once she fell and fractured her ribs I think it was inevitable that she was going to die from the aspiration pneumonia this time," the geriatrician said.