More police officers are being moved onto frontline duties to boost visibility and counter an increased terrorist threat in Northern Ireland, PSNI Chief Constable Simon Byrne has said.
Mr Byrne also said he assumed that dissident republicans would attempt to draw police officers into public disorder situations over the Easter period.
MI5 recently raised the terrorism threat level in Northern Ireland to severe, meaning an attack is highly likely.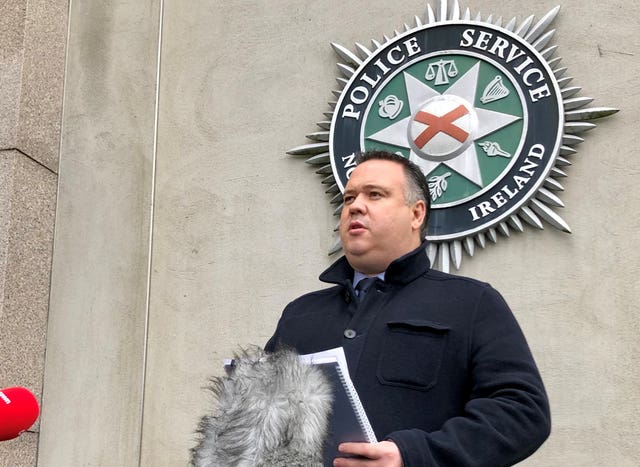 Briefing the Policing Board in Belfast, the Chief Constable said the overall tone in both the operational threat and the resourcing picture facing the PSNI is "stark and sombre".
He added: "We are now dealing with a severe terrorist threat, which means that an attack is highly likely right across Northern Ireland.
"The thing to stress is the main focus of these attacks continues to be police officers, both on and off duty and their families.
"The style of attack that we are dealing with and trying to frustrate is gun attacks and bomb attacks on these people by a small number of determined dissident terrorists.
"What this means is that working with our security partners, there is an assessment about an increase in their intent and capability to cause serious harm to us in the next six months."
Mr Byrne said the increased threat came at a time of "unprecedented policing demand" in Northern Ireland.
He said: "After careful assessment we have decided that in order to maximise the safety of our officers and staff and the wider community, it is necessary to increase our operational capacity immediately.
"In policing terms we have initiated what we call Operation Inspire level four.
"What that means is that in some cases operational officers across the service have moved to 12-hour shifts and officers in a number of non-frontline roles will move to support the collective effort to focus on preventing further terrorist outrage and actually increasing our patrol visibility across the country.
"It is a reflection of the quite difficult and exceptional circumstances we find ourselves in."
Mr Byrne said the plan would remain in place for around 10 days and would then be reviewed.
The Chief Constable added: "If that wasn't enough we are on the cusp of the Easter period which is traditionally quite busy. There is a significant policing operation in place.
"There are 90 notified parades and events taking place between Good Friday and Easter Tuesday.
"In addition our planning is based on experience which takes into account the risk and likelihood of policing non-notified parades.
"This may include the display of paramilitary uniform and paramilitary shows of strength and we will have resources in place to deal with that.
"We are also assuming attempts will be made to draw us into situations which may likely cause disorder over the next few days."