Northern Ireland has an "incredible opportunity" for economic growth, US president Joe Biden insisted as he pledged to continue to work with the UK and Irish governments to restore devolution.
On his four-day visit to the island of Ireland, Mr Biden claimed "hundreds" of US corporations were ready to invest in Northern Ireland – but were "cautious" about the lack of devolved government in the region.
He also said the UK should be working more closely with the Irish government to support the people of Northern Ireland.
The president again addressed the powersharing impasse at Stormont on Saturday when he was back in the United States.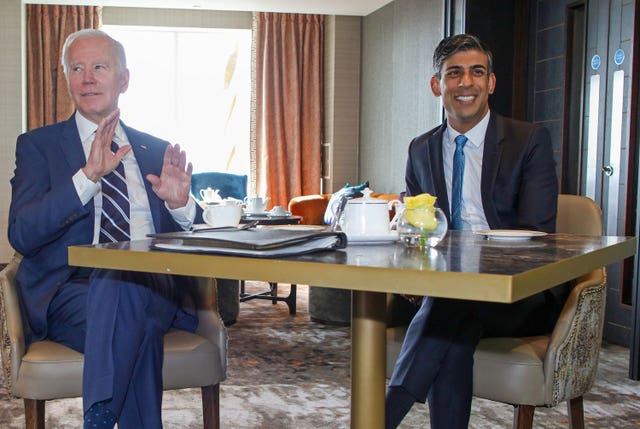 "We have more to do in the north," the president told reporters in Delaware.
"We have more to do to get the government formed. And I think we can still do that and it's important.
"And I'll continue to work with the Prime Minister of England (UK PM Rishi Sunak) as well as the Taoiseach (Leo Varadkar)."
In a keynote address at Ulster University in Belfast on Wednesday, Mr Biden praised the work of the UK and EU to strike the Windsor Framework on post-Brexit trading arrangements.
The president's visit to Northern Ireland came as the region marks the 25th anniversary of the landmark Good Friday peace accord that created Stormont's powersharing institutions.
There had been speculation that Mr Biden would address the Stormont Assembly on his visit north of the border, but that plan did not materialise, with suggestions that the powersharing deadlock was a determining factor.
Throughout his trip to the island, Mr Biden repeatedly expressed hopes of a return to devolution north of the border and insisted stable governance at Stormont could deliver an economic windfall for the region.
"This is such an opportunity," he said back in the US on Saturday.
"It really is an incredible opportunity for the north, in terms of economic growth and economic prosperity.
"And they have all the tools. They have the universities. They have the technicians."